Deadly attack on beach near tourist hotels in Tunisia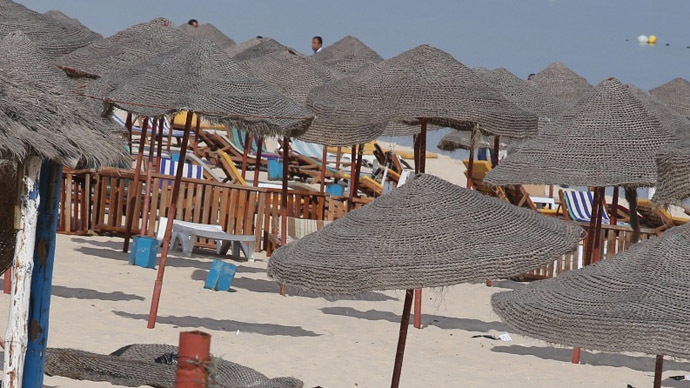 A beach attached to the tourist complex of Port El Kantaoui near the city of Sousse in central Tunisia has been attacked by gunmen. Dozens of people have been reported killed and injured.
28 June 2015

11:00 GMT

UK's Foreign Office confirms 15 British nationals died in the attack on the beach outside the Imperial Marhaba hotel Friday.

Minister confirms at least 15 Britons killed in #Tunisia & others badly injured; sends sympathy to victims & families http://t.co/tQZc85fDy1

— Foreign Office (FCO) (@foreignoffice) June 27, 2015

27 June 2015

13:01 GMT

The victims of Friday's Tunisian beach resort shooting are mostly British. However, other Europeans are also among the victims.

"The majority are British," Tunisian Prime Minister Habib Essid told a news conference.

"After [this] come[s] the Germans, then the Belgians and then other nationalities," he said, adding that there were also French nationals among the victims.

The PM added that reserve troops will be deployed to protect "sensitive sites... and places that could be targets of terrorist attacks."

The "exceptional plan to better secure tourist and archaeological sites" will include "deploying armed tourist security officers all along the coast and inside hotels from July1 ," he added, according to AFP.

09:56 GMT

Thomson and First Choice travel have canceled all this week's flights to Tunisia following the deadly terrorist attack. "Thomson and First Choice are deeply shocked and truly saddened by the events and we are grateful to our staff on the ground and the emergency services who are working hard in an incredibly challenging environment," its statement read.

01:49 GMT

Tunisian Prime Minister Habib Essid has revised the death toll from 39 to 38 people, according to AFP. The previous figure included the dead gunman.

01:36 GMT

There were three attackers in the Tunisian massacre, Interior Ministry spokesman Mohammed Ali Aroui told reporters. One of the men was was killed, one was arrested and another escaped.

One of the attackers was a young student not previously known to authorities, Rafik Chelli, the secretary of state of the Interior Ministry, told The Associated Press.

00:51 GMT

In light of Friday's beach massacre, some 80 mosques outside state control will be closed down to prevent the possible incitement of violence, the Tunisian government has announced, according to Reuters.

00:29 GMT

Holiday maker Thomas Cook will not refund any holidays booked for Tunisia that are due to start after July 4.

The firm said that it was offering customers "up to and including July 4 the opportunity to cancel or amend their holiday free of charge. For those traveling from July 5, we are offering to amend their bookings to Tunisia free of charge for holidays departing up to and including July 31 2015."

26 June 2015

23:57 GMT

Tunisia cannot cope with the international extremism threat on its own, said President Beji Caid Essebsi, calling for a global strategy to tackle the terrorists.

"We note that Tunisia faces an international movement. It cannot respond alone to this. On the same day at the same time France has been the target of such an operation, and Kuwait too," he told AFP. "This proves the need for a global strategy, and that all democratic countries must now join forces."

23:17 GMT

The Islamic State terrorist group has claimed responsibility for the deadly attack on tourists at a Tunisian beach which claimed at least 39 lives, Reuters reports citing social media accounts associated with the jihadists.

"Our brother, the soldier of the Caliphate, Abu Yihya al-Kairouni, reached his target the Imperial hotel despite the security measures," the statement said. It said he had attacked a "bordel" and killed "infidels'.