Fatal Friday: Scores dead after France, Tunisia & Kuwait hit by terrorist attacks
Three fatal terrorist attacks on three continents within hours of each other have left officials fearful that a coordinated campaign of terror is underway, following last week's calls for "a month of disasters for infidels" by Islamic State.
FollowRT's LIVE UPDATES on attacks in France & Tunisia
On Friday morning, at least one individual drove a car into a gas processing plant outside the industrial city of Lyon in France. The perpetrator beheaded one person, and injured two others, before hanging a severed head with Islamist flags and Arabic inscriptions on the factory gate.
FRENCH FACTORY ATTACK: Islamist flag found at the scene - reports http://t.co/Gn3CRVWryrpic.twitter.com/M9b8XTEbpa

— RT (@RT_com) June 26, 2015
The attacker was captured shortly afterwards, with police looking for accomplices. French President Francois Hollande called the incident a "pure terrorist attacks," while Interior Minister Bernard Cazeneuve said the suspect was "somebody who was in touch with [Muslim fundamentalist] Salafists."
A reported two gunmen then burst into a Spanish-owned beachside tourist resort in the Tunisian city of Sousse. At least 38 people, predominantly foreigners, were gunned down, though their identities have not yet been revealed.
#TUNISIA ATTACK: 20+ dead, bodies at the beach, two hotels involved, 1 gunman killed http://t.co/tYsJ3Pa5mK#Soussepic.twitter.com/Vk6RHI5sNM

— RT (@RT_com) June 26, 2015
The Islamic State terrorist group has claimed responsibility for the deadly attack on tourists at a Tunisian beach which claimed at least 39 lives, Reuters reports citing social media accounts associated with the jihadists.
"Our brother, the soldier of the Caliphate, Abu Yihya al-Kairouni, reached his target the Imperial hotel despite the security measures," the statement said. It said he had attacked a "bordel" and killed "infidels'.
In Kuwait, a suicide bomber set off explosives in a Shia mosque packed with 2,000 people during Friday prayers. At least 27 people are deadin addition to 227 wounded, according to the Health Ministry.
The Sunni Islamic State (IS, formerly ISIS) took responsibility for the attack on social media. An unspecified number of suspects were arrested in connection with the attack, the interior ministry said without providing details.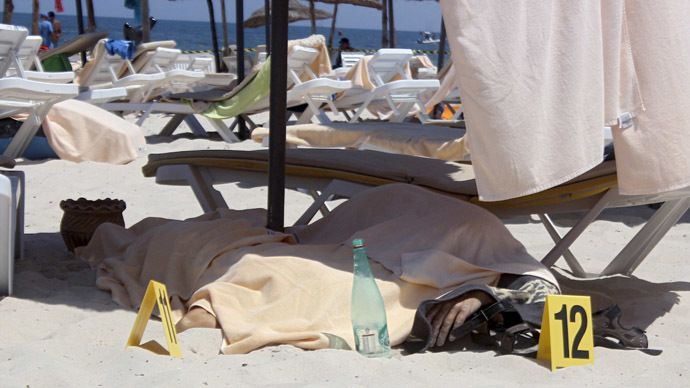 Radical Islamist supporters have flooded social networks with a celebration of the violence under the hashtag #bloodyfriday.
Last week IS released a message calling for a spate of attacks during the Islamic holy month of Ramadan, which lasts until July 16 this year, and turn it into a month of disasters.
READ MORE: 25 dead, 200 injured in Shiite mosque blast in Kuwait, ISIS claims responsibility (VIDEO)
Politicians and intelligence services all over the world have been examining the links between the attacks.
"This is a threat that faces all of us, these events that have taken place today in Tunisia and in France, but they can happen anywhere - we all face this threat," said UK Prime Minister David Cameron, before chairing a meeting of the COBRA emergency committee.
"We have to deal with this poisonous radical narrative that is turning so many young minds and we have to combat it with everything we have," Cameron added, while insisting that he still believed that "Islam is a religion of peace."
The White House joined in the chorus of reproach.
"The United States condemns in the strongest terms the terrorist attacks in France, Kuwait, and Tunisia today.Our thoughts and prayers are with the victims of these heinous attacks, their loved ones, and the people of all three countries," it said in a statement.
The New York Times reported that intelligence officials were in constant contact with foreign colleagues to ascertain if these were coincidentally timed attacks, or part of a co-ordinated plan, perhaps orchestrated by Islamic State.
With many European leaders in Brussels for the EU Council meeting, the Brussels police released a statement that their security is being guaranteed, but said there was no overall change to the threat level, which has been elevated since the Charlie Hebdo attacks earlier this year.
You can share this story on social media: