27 dead, 227 injured in Shiite mosque blast in Kuwait, ISIS claims responsibility (VIDEO)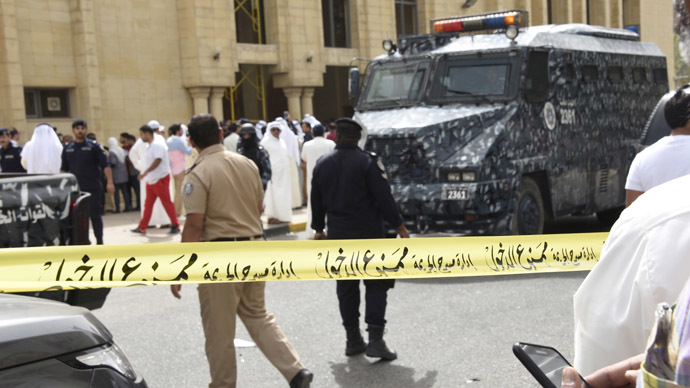 Islamic State has claimed responsibility for an explosion at a Shiite mosque in Kuwait's capital, which took place during Friday prayers. At least 27 people are dead in addition to 227 wounded, according to the Health Ministry.
An unspecified number of suspects were arrested in connection with the attack, the interior ministry said without providing details.
Basel al-Fadli from the Kuwait Watch Organization told AP that several people are still missing. Most of the victims were men or boys, according to paramedic Abdelrahman al-Yusef.
Footage showed several bodies on the floor amid clouds of dust.
Emergency services rushed to the mosque, which is one of the largest Shiite worship centers in Kuwait.
#KUWAIT MOSQUE: Attack carried out by suicide bomber, at least 5 killed, 15 injured http://t.co/YZeWsJpBKRhttps://t.co/ceH2tATSpd

— RT (@RT_com) June 26, 2015
A statement by Islamic State identified the bomber as Abu Suleiman al-Muwahed, and called the mosque a "temple of the rejectionists" – a term used by the group to refer to Shiite Muslims.
Video shows entry of #Daesh suicide bomber to Imam Sadiq mosque in kuwait today before he blew himself up, killing at least 25 worshippersPosted by Mohammed Al-Hilli on Friday, 26 June 2015
Kuwaiti Prime Minister Sheikh Jaber al-Mubarak al-Sabah said the suicide bombing was an attempt to threaten Kuwait's national security.
"This incident targets our internal front, our national unity," Sheikh Jaber told Reuters after visiting the wounded at the Emiri hospital. "But this is too difficult for them and we are much stronger than that."
The attack is the first such bombing targeting Kuwaiti Shiites, who make up around one-third of the country's native population of 1.3 million people.
Friday midday prayers are typically the most crowded of the week, and attendance increases during the holy Muslim month of Ramadan, which started last week.
Islamic State was also behind two different bombings at Shiite mosques in Saudi Arabia last month.
BREAKING: Suicide bombing inside al Emam AlSadiq mosque in #Kuwait, casulties reported - @metesohtaoglupic.twitter.com/x79WHwckTo

— Conflict News (@rConflictNews) June 26, 2015
The first Saudi Arabia blast killed around 20 people during Friday prayers, prompting Kuwait's Foreign Ministry to denounce the attack as a "heinous crime against innocent worshippers."
That same week, a second blast in Saudi Arabia killed four people at a Shiite mosque.
You can share this story on social media: