French gas factory attack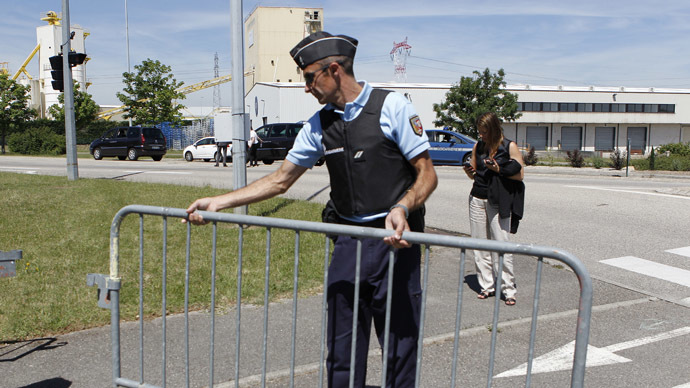 One man was beheaded and several others injured in a suspected Islamist attack on a French factory in Saint-Quentin-Fallavier, French media reported on Friday.
28 June 2015

09:54 GMT

The main suspect behind the attack on a French gas plant has admitted to decapitating his boss, AFP reports citing own sources close to the investigation. Yassin Salhi also reportedly provided other evidence, though it is not elaborated which.

#BREAKING: France attacks suspect confesses to killing: source close to probe

— Agence France-Presse (@AFP) June 28, 2015

27 June 2015

03:53 GMT

Prime Minister Manuel Valls warned Saturday that France faced the possibility of more attacks to come.

"It's difficult for a society to live for years under the threat of attack," he told AFP on a flight back from Bogota, adding, "the question is not ... if there will be another attack, but when."

01:23 GMT

An unnamed woman who identified herself as Salhi's wife told Europe 1 radio station that she was shocked to hear of the atrocities committed in Lyon.

"On the news they are saying that it's a terrorist attack, but that's impossible. I know him, he's my husband. We have a normal family life," she said prior to her detention by the authorities. "He went to work this morning at 7:00am."

"We are normal Muslims, we're observing Ramadan. Normal. We have three kids, a normal family life," she said.

00:51 GMT

Yassin Salhi became known to intelligence services in 2005 and 2006 for socializing with a group of people associated with radical Islam. He was investigated for a few years thereafter, but authorities did not renew their inquiry in 2008, French Interior Minister Bernard Cazeneuve said.

"This individual has links with the Salafist movement, but had not been identified as having participated in activities of a terrorist nature," Cazeneuve told AFP.

26 June 2015

20:01 GMT

Yassin Salhi, who carried out a terrorist attack in the French town of Saint-Quentin-Fallavier, was acting alone, said Paris Prosecutor Francois Molins as he announced preliminary investigation findings, TASS news agency reports. "Nothing indicates that he had an accomplice who would help him in the factory or ... [with] surveillance, with all the witnesses claiming only one man attacked the factory," the Prosecutor said.

16:14 GMT

The terror alert has been raised in Spain, following Friday attacks in France, Kuwait and Tunisia. The level has been set at four, out of a possible five tiers, Interior Minister Jorge Fernandez Diaz said. He referred to the close "proximity of the attacks," and the fact that it is the one-year anniversary of the proclamation of a 'caliphate' by Islamic State.

15:50 GMT

The Department of Energy has asked operators with sensitive industrial sites to strengthen their vigilance after the Friday attack. This includes strengthening "human presence on storage sites," as well as "restricting entries" and "being more attentive to movements" on site.

15:27 GMT

The US company Air Products wrote in a statement that it has secured all its sites around the world.

15:21 GMT

Spain has condemned the attack in France.

"I strongly condemn the attack...Democrats will always stand against barbarism," wrote Prime Minister Mariano Rajoy on his Twitter account.