The 2017 FIFA Confederations Cup gave football fans around the world the opportunity to see Russia with their own eyes and form their own opinions of the nation.
For Russian football fan Petr Kuzmin, it provided the chance to catch a glimpse of how football in his home country has developed since his relocation to Australia to begin a family 11 years ago.
Raised in Samara and now living in Melbourne, Petr supported both 'Sbornaya' and 'Socceroos' at the tournament, visiting each Confed Cup host city of Moscow, Kazan, St. Petersburg, and Sochi in the process, often travelling with the latter's famous fan group 'Green & Gold Army.'
Thankfully, Australia and Russia didn't meet in the tournament, and although neither managed to progress from their respective groups, Petr noted the positive changes in Russian football over more than a decade, including a shift from matchday atmospheres once dominated by rowdy rabbles of fans to a well-organized, family-oriented spectacle.
Speaking to RT Sport, Kuzmin reflected on the tournament from his unique viewpoint as a Russian fan among away support in Russia, and what he believes the tournament spells for the Russia 2018 World Cup next summer.
RT: In what aspects does Australian fan culture differ or is similar between to Russian?
Peter Kuzmin: Two main differences come to mind. First, football matches seem to be much more family friendly in Australia than in Russia. I was a family ticket holder with Western Sydney Wanderers for a couple of seasons and I started to take my daughter to the stadium when she was five. She had just as much fun watching their active support group as the football game itself.
Read more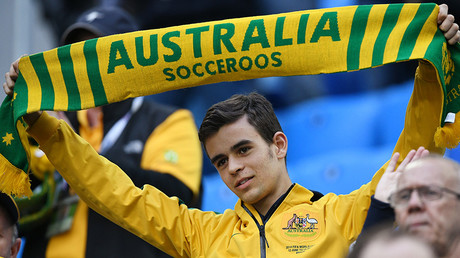 Some of my friends started taking their kids to the stadiums even at the toddler age. My memory of football matches in Russia in the 1990s is that the fans were predominantly male and I don't really remember seeing many kids. I saw more female fans and kids during the Confederations Cup though and I hope that this is an indicator that the Russian fan culture is becoming more family friendly.
The second difference is that the Aussie active support groups prepare really well for the matches and have an almost non-stop routine of chants and songs - at least the fans of the biggest Aussie clubs. Again, my experience of Russian club football is not very recent but I remember the vocal support being more spontaneous and sporadic in the past. I think that's changing too though as big clubs in Russia now seem to have quite strong fan organisations.
RT: What exactly do Aussies like to do to stand out and how did it go down in Russia?
PK: I think that Aussie and Russian fans are not that much different in this respect - fans make up extravagant and funny costumes to stand out, for example, wearing funny hats and having accessories like inflatable kangaroos. A few inflatable kangaroos featured in this Confed Cup and I know that the Aussie fans even named them and talked about them as if they were mates! The kangaroos were a hit with the Russian fans who kept on asking for group photos with the Aussie fans and the kangaroos.
RT: We saw plenty of inflatable kangaroos in the stands but no BBQs, which Australians are famous for - why was this?
PK: An Aussie BBQ is a very special tradition Down Under and I suspect they just need their tools and special ingredients to make an enjoy a BBQ properly! But who knows - maybe next year there will be some.
RT: How were fans received in Russia and did the Russian fans engage?
PK: I've spoken to a number of Aussie fans during the Confederations Cup and I was pleasantly surprised by how overwhelmingly positive their responses were to questions about their experience in Russia. They liked the stadiums, friendly volunteers most of whom could speak English, a sense of security, historical architecture. But what lots of the Aussie fans emphasised most is that the Russians they'd met had been extraordinarily friendly and open.
A common Western stereotype about Russians is that they are grim and distant but in reality Russians are very curious about other cultures and they are very welcoming and friendly. One example: After the Australia v Cameroon match, a big group of Aussie fans stopped at a bar not far from the Krestovsky Stadium and there was a bit of confusion at the bar. One of the Russians who happened to be there offered his help and cleared up the situation with the barman. About 20 minutes later I noticed that he was having beers with a group of Aussie fans and he already offered to meet them the next day and take them on a walking tour around St. Petersburg to show all cool places rather than the usual tourist attractions.
I have witnessed several other examples of Russians going far and beyond what is typically expected to make the Aussies they met feel welcome in Russia. And the Aussie fans have been very appreciative of this, posting lots of positive comments about Russia and Russians on their Facebook pages.
RT: You traveled to each of the four host cities for the Confederations Cup, which impressed you the most and why? What stood out for you?
PK: It's hard to pick one that impressed me most - all four are just so different and have their own peculiar attractions to offer. St. Petersburg is a fantastic city to visit at any time because of its architecture and a special city vibe; its new stadium is quite spectacular, especially because of the setting. Sochi's Olympic Park is very impressive but the alpine resort Rosa Khutor, which is less than an hour away by speed train, offers a completely different type of experience. I took the cable car road up the 2320m peak and was struck by the natural beauty of the mountains. Kazan is an excellent example of a provincial historical city - its kremlin and the surrounding historical areas are a must. The stadium is also very modern, comfortable and very picturesque because of its setting on the bank of a river.
Moscow's Spartak Stadium was probably my favourite though and the city itself has so much to offer that I expect most foreign fans would have spent at least a couple of days there. One thing that impressed me a lot is the number of friendly volunteers not only at the stadium but also at the airports, train stations and just around the biggest attractions around the host cities. I think volunteers are a great help not only to the foreign visitors but Russians from other cities as well. I was also impressed with the free trains which circulated among the four host cities and I made two trips on them myself - from St. Petersburg to Kazan and from Moscow to St. Petersburg.
RT: Australians made headlines for 'taking over' the Moscow metro, did they come to conquer Russia and if so did they succeed?
PK: The number of Aussie fans was not that big, probably around 150 or so, and I don't think they came to conquer Russia. This was more of a reconnaissance mission in preparation for the World Cup next year, I think. A significant number of the Aussie fans who came this time are actually based in Europe now, primarily London, so it's easier for them to travel to Russia. But I think a lot more fans will come next year to the World Cup.
My impression was that even though the Aussie fans were not that numerous, they were so colourful and vocal that they made a positive impression on the locals and Russians would enjoy having more of them here next year. Now the Socceroos just need to win the qualifiers and confirm their place in the World Cup next year.
RT: What has been the thing that stood out most to you that had changed since you left Russia?
PK: I think the level of service has improved quite dramatically compared to the 1990s and 1980s when I was growing up. Shop assistants and government workers tended to be unfriendly and even tyrannical in some cases. But this year I saw lots more smiling faces and a genuine desire to be helpful. Volunteers in particularly were fantastic.
READ MORE: Australian fans 'take over' Moscow Metro on way to final Confed Cup game (VIDEO)
RT: Since coming for the Confederations Cup, how much are Australians looking to forward to potentially coming back for the World Cup in 2018?
PK: Literally every Aussie fan I met during the Confed Cup said that they definitely want to come back next year. I know that a Facebook group has already been set up in preparation for next year and members are already discussing what hashtags they need to have to make it easy to find all the fan-generated content online.
RT: Who will you support in the 2018 World Cup, should Australia get there?
PK: I will of course support both Russia and Australia and hope that both teams manage to make it out of the group stage at least!
By Danny Armstrong for RT Sport