The 2017 FIFA Confederations Cup adventure may be over for Australia, but they ensured they made their mark on the tournament by momentarily 'taking over' the Moscow Metro in their final group game.
Australia's Green & Gold Army, the supporters group for the 'Socceroos' national football team, made their presence truly felt on the way to their final Group B game with Chile at Spartak Stadium.
On the city's metro, which provides free travel for 'FAN ID' holders during the Confederations Cup, green and gold-clad Australians sat on the floor of the carriage and sang "sit down, if you love Aussies."
At the end of that chant the fans, some clutching Australian flags and inflatable kangaroos, suddenly jumped up and bellowed "stand up if you love Aussies," much to the entertainment of the rest of the packed carriage.
Petr Kuzmin, a Russian originally from Samara but who has been living in Melbourne for the past nine years, posted the video to his Facebook page.
Kuzmin is traveling his native country for Russia and Australia Confederations Cup games in all four host cities - Sochi, St. Petersburg, Moscow and Kazan - and also photographed foosball tables in the metro, which has been gripped by a real football atmosphere.
"To make Moscow metro even cooler, they've installed foosball tables for the Confederations Cup visitors not sure what happens during the rush hour though," Kuzmin captioned the photos.
Read more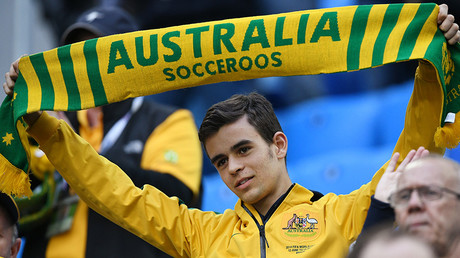 It had already been reported that Australian fans visiting Russia for the Confed Cup had been impressed by the hospitality and efficient organization that greeted them.
"The destination has exceeded expectations. Everyone had perceptions of what Russia would be like, and the reality has been enormously different," said Aaron Zoanetti, Green and Gold Army director.
Although the 1-1 result meant that La Roja advanced to the semifinal at the expense of the Australian team, the Socceroos were gracious and magnanimous in defeat.
The team, led by Socceroos stalwart Tim Cahill, who was winning his 100th cap in Aussie gold that night, thanked the traveling support, who replied "good job" to their heroes from the stands.
Chile will play Cristiano Ronaldo's Portugal in Kazan on Wednesday, before Germany take on Mexico in Sochi a day later in the other semifinal match, with the winners earning a place in the final at St. Petersburg Stadium on July 2.