Australian fans visiting Russia for the 2017 Confederations Cup have been impressed by the hospitality and efficient organization that has greeted them.
Despite media outlets fearing hooliganism and poor organization would be prevalent during the tournament, Australian football fans have been blown away by the warm welcome and capable management in Sochi.
Australian football historian Les Street was mobbed by interested fans in the city ahead of his country's Group B match versus world champions Germany at Fisht Olympic Stadium on Monday, which Germany won 3-2.
READ MORE: Australia 2-3 Germany: World champs claim entertaining Confed Cup win over Socceroos
"Before I could even get into the ground I was interviewed twice by Russian television stations. Then I had people stopping me for selfies," Street said, the Guardian reported.
The article went on to say that "Russians might be stereotyped for their cold exteriors, but they have warmly embraced these visitors from across the globe."
Aaron Zoanetti, director of Australia's Green and Gold Army fans' travel group, echoed the sentiments of Street.
"Obviously the fans were hugely disappointed with Australia's loss to Germany. But the destination has exceeded expectations. Everyone had perceptions of what Russia would be like, and the reality has been enormously different," said Zoanetti.
Supporters said they were particularly impressed with the FAN ID system, which was introduced for the tournament as an easy-to-use entry visa to Russia as well as providing free travel around the host cities.
The FAN ID - also known as a fan passport - will also feature at the FIFA 2018 World Cup held in Russia next year.
The Australian fans are not the only set of supporters who have been happy with their stay in Russia so far.
New Zealand fan group 'The Flying Kiwis' organized a football match between with Russian fans in St. Petersburg ahead of their country's Confed Cup curtain-raiser against the hosts.
Read more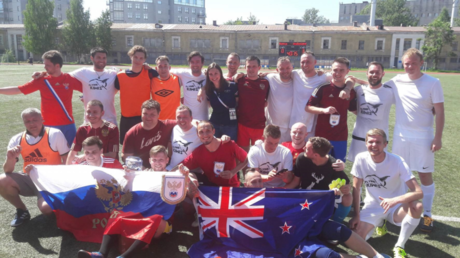 "We came open-minded, and we've been greeted warmly," said match organizer Matt.
"The White Nights are incredible – I learned about that when the sun didn't go down.
"Even though we speak different languages, the people here have tried to help any way they can."
His sentiments were echoed by teammate Fred, who said: "We had faith in the Russian people, and we have been proven right."
The two now hope that the All Whites can manage to squeeze through the intercontinental playoffs, and make it through to the Russia 2018 World Cup.
"If this trip is a sign of what's to come, let's hope that we are back next year, too," said Fred.