Russian officials reveal status of FIFA 'legacy' payments
The global governing body has reportedly pledged $100 million to Russia as part of the 'legacy' of the 2018 World Cup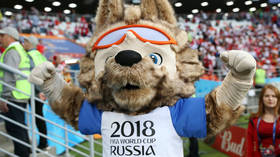 Global football governing body FIFA is on schedule with payments to Russia as part of the 'Legacy Fund' from the 2018 World Cup, according to the Russian Football Union (RFU). It was reported earlier this year that payments had been suspended following the onset of the conflict with Ukraine.
"At the moment, there are no delays in payments under the FIFA Legacy program. Payments are made in accordance with the schedule," the RFU press service told TASS on Friday.
Russian football official Maxim Mitrofanov, who at the time was RFU director of development, said in April that the FIFA payments had been suspended. It was reported in May that funds were owed to the amount of $15 million, and that Russia had received 45% of the overall $100 million which had reportedly been promised.
Friday's statement indicates that there are no financial issues stemming from Russia's successful hosting of the 2018 FIFA showpiece, which was held at 12 venues across 11 host cities and culminated with France beating Croatia in the final at Moscow's Luzhniki Stadium.
Russian officials from the 2018 World Cup, including local organizing committee chief Alexey Sorokin, passed on their expertise to help Qatar prepare for the most recent edition of the tournament, which concluded last month.
The apparent continuation of financial ties between FIFA and Russia comes after Sorokin confirmed in October that his country had been fully compensated by European governing body UEFA, following the decision to remove the 2022 Champions League final from St. Petersburg as a result of the military campaign in Ukraine.
UEFA and FIFA imposed a ban on Russian teams from their competitions at all levels at the end of February, with those sanctions remaining in force. However, the RFU announced in December that it would establish a working group involving UEFA and potentially FIFA and the International Olympic Committee (IOC) with the aim of finding a way back to international competitions for Russian teams.
It had been suggested that the RFU could seek to leave UEFA and join its Asian equivalent, the AFC, although such a step appears less likely after the RFU's statement last month.
You can share this story on social media: