Nikolay Gulyaev, Head of the Moscow City Department of Sport and Tourism, has said that safety is priority in Moscow at next summer's World Cup.
Gulyaev was speaking at an event to receive international press at Spartak Stadium in Moscow, where 2017 FIFA Confederations Cup hosts Russia take on Portugal in Group A of the tournament on Wednesday night.
British reporter Ian Herbert of Mail Sport asked Gulyaev how the police will handle "up to 5,000 England fans in one place" during next year's Russia 2018 FIFA World Cup and whether this would be discouraged, given the difficulties it may pose for security.
"That is a question for the police, but I can add that in Moscow, safety is our priority," replied Gulyaev.
The FIFA 2018 World Cup will be held in Russia from June 14 to July 15 in 12 stadiums across 11 host cities, including Luzhniki Stadium and Spartak Stadium in Moscow.
Read more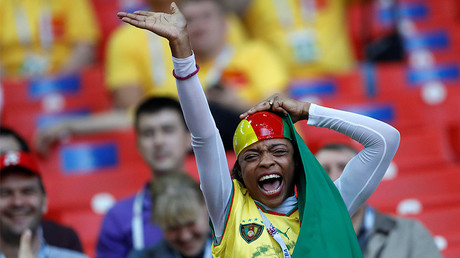 Gulyaev also appeared on RT, where he spoke about the city's infrastructure and development in recent years.
"Hosting a big tournament like the FIFA World Cup is always good to the city, to develop and to have better infrastructure. But Moscow is growing itself with or without those kind of events."
When asked about the ease of use of the city's infrastructure for international guests, Gulyaev revealed the city's plans to add more than just English for important information.
"Japanese, Chinese, German and maybe some other languages.
"But mainly in English," he added.
Only three matches at this summer's Confederations Cup, seen as a dress rehearsal for the bigger tournament, will be held in Moscow, all at Spartak Stadium including Wednesday night's match.
Russia currently sit top of Group A after beating New Zealand 2-0 in the tournament's opening game on Saturday in St. Petersburg. Portugal sit third, level on points with Mexico after the two sides' dramatic 2-2 draw in Kazan on Sunday.
READ MORE: 'We came with open minds': NZ fans enjoy Petersburg's White Nights, win vs. Russian fan team
Russia's match against European champions Portugal, led by current world player of the year Cristiano Ronaldo, could feasibly be the most challenging competitive game for 'Sbornaya' before next year's Russia 2018 FIFA World Cup.
As Russia have already qualified for the tournament as the host nation, they are not required to play any qualifying matches, and therefore this summer's tournament could well provide their only competitive football.