Not-so-special relationship: 4 times Trump damaged old bonds that link US & UK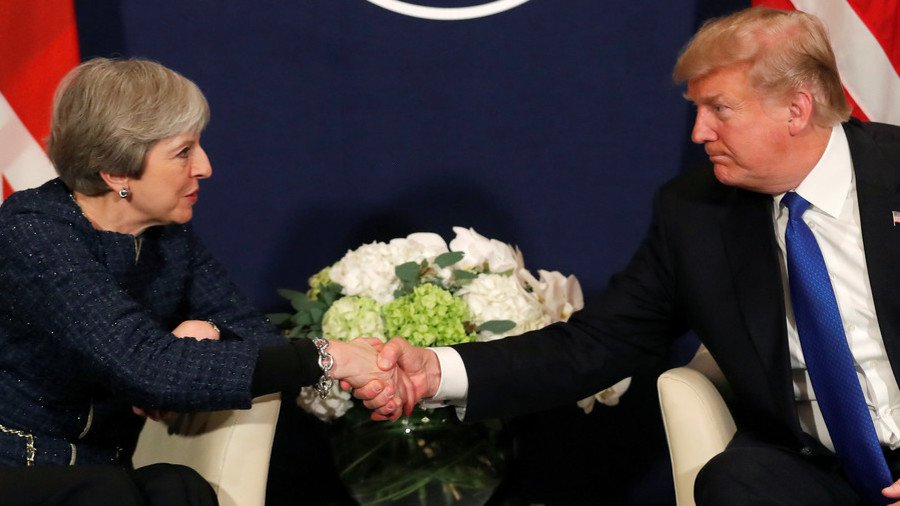 For one who claims to love the UK, Donald Trump seems to have made a habit of attacking the country in the past 18 months – and did so again Friday, when he told a Texas crowd that knife crime had turned London into a "warzone."
Trump, who traces his roots to the UK and his Scottish mother, painted a nightmarish scene of an unidentified hospital in the country's capital. "They don't have guns, they have knives, and instead there's blood all over the floors of this hospital," he told a National Rifle Association conference in Dallas.
READ MORE: 'It's like a warzone': Trump takes swipe at London knife crime in speech to NRA
Naturally, his address served to infuriate those in the UK who still remember Trump's other diplomatic foul-ups. Here, RT.com looks back at moments when the US president's loose lips made the "special relationship" anything but special.
Trump vs The Mayor of London
Trump's long-running feud with London mayor Sadiq Khan began in May 2016, when Khan said the then-candidate for president had "ignorant views about Islam" after Trump proposed banning Muslims from entering the US. The candidate then hit back at the Labour lawmaker, calling Khan "nasty" and challenging him to an IQ test.
When Khan told Londoners there was "no reason to be alarmed" at the sight of an increased police presence on the streets of the capital following terrorist attacks in Borough Market and on London Bridge in June last year, Trump responded by firing off a tweet in which he seemed to deliberately misinterpret Khan's remarks. In a second tweet, he took aim at the UK's strict gun laws. After sending the tweets, Trump reportedly left the White House to play a round of golf.
The attack was condemned by politicians and commentators across the UK political spectrum. "Cheap, nasty and unbecoming of a national leader," said London Labour MP David Lammy at the time, echoing the sentiments of Conservative MP Penny Mordaunt, who said she stood with Khan and "resilient London."
READ MORE: #ICYMI Asks: Should Donald Trump win the Nobel Peace Prize?
What about that time he slagged off the London Met…?
In September last year, the former property tycoon and hotelier stirred up controversy after a terrorist attack on the London Underground. Writing on Twitter, Trump called on authorities to be "proactive" in tackling terrorism and said that the attackers "were in the sights of Scotland Yard."
The remarks led some to wonder if Trump had revealed classified information related to the investigation. British Prime Minister Theresa May classed her US counterpart's remarks as speculation which, she said, was "not helpful."
After the rebuke, Trump sent another tweet, saying: "Don't focus on me, focus on the destructive Radical Islamic Terrorism that is taking place within the United Kingdom."
READ MORE: Trump's UK visit: Brexiteer Rees-Mogg giddy with excitement — 'The red carpet must be spotless'
… or when he retweeted Britain First?
In November, Trump again caused outrage after sharing a series of videos from the UK group Britain First. The three clips were originally shared by an account belonging to Jayda Fransen, the group's leader.
Again, UK politicians voiced their disgust at the president's actions, with Labour Party leader Jeremy Corbyn calling the tweets "abhorrent, dangerous and a threat to our society." Another Labour MP, Chuka Umunna, called for Trump's state visit invitation to be withdrawn, on the grounds that he was "normalizing hatred."
READ MORE: Gleeful Boris ecstatic over impending Trump visit as POTUS set to visit Queen
Theresa May was again pressed into criticising her US counterpart, saying the Britain First group sought to divide communities using "hateful narratives which peddle lies" and increase tensions. "It is wrong for the president to have done this," she added.
In an interview on British TV in January, Trump said he was prepared to apologize for the tweets. "If you are telling me they're horrible people – horrible, racist people – I would certainly apologize if you'd like me to do that," he said.
READ MORE: Trump displays shrewd deal-making skills with latest Twitter threat against US partners
Furore around US Embassy in London
In January this year, Trump cancelled a visit to London to open the new US embassy in London, saying he was unhappy with the deal to move the embassy from Grosvenor Square in central London to Nine Elms, south of the Thames. At the time, it was reported that Trump had feared being met by widespread protests against his visit.
"In the UK, in London, we had the best site in all of London. The best site," Trump told a rally in Michigan last month. "They go out and they buy a horrible location. And they build a new embassy. That's the good news. The bad news is it cost over a billion dollars."
The move had been agreed under former president George W. Bush and was forced through after security specifications introduced after 9/11 made the Grosvenor Square site unsuitable.
The characterization of Nine Elms as "lousy" and an "off location" angered some Londoners. The leader of Wandsworth council, Ravi Govindia, said at the time the new embassy was part of a multimillion-pound regeneration of the area. "Tech giant Apple is moving its entire UK operation, so it's clearly not an off location for them," he said.
Think your friends would be interested? Share this story!
You can share this story on social media: