#Romanovs100: The only survivor of royal family execution, Joy's incredible story in rare photos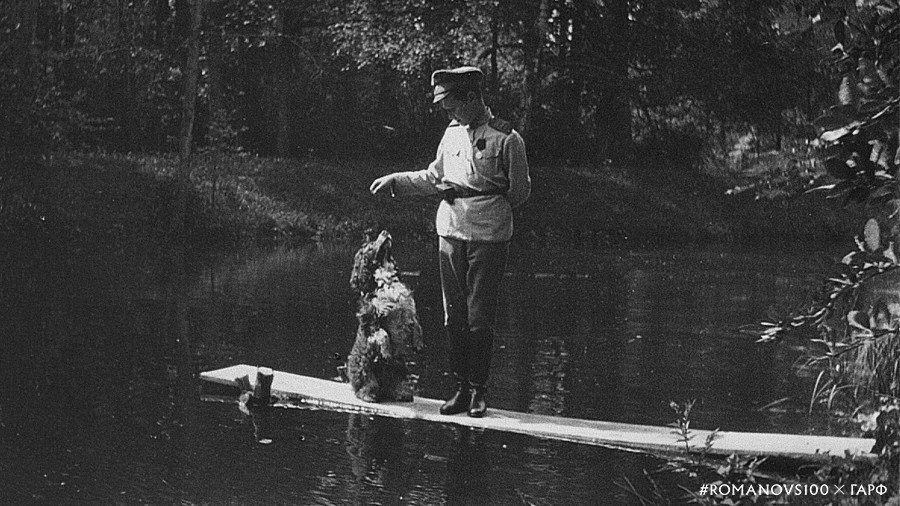 As part of RT's history project, #Romanovs100, an unexpected story is unfolding. Spaniel_joy_romanov is offering a canine perspective on one of the most powerful families in the world, using Instagram as his creative platform.
The avatar of Spaniel_joy_romanov is based on a real dog, Joy – Tsarevitch Alexei's pet. The Russian spaniel joined the family in 1914 and was a faithful companion to the emperor's only son until the end.
Russia's last reigning family was very fond of animals and had plenty: some lived in the palace and shared beds with the royals, others (including two elephants) enjoyed their own homes in Tsarskoye Selo. Although Alexei was offered many pets as gifts, especially during sailing trips, he would spend a season with a new companion and then lose all interest.
This changed when Joy came along in 1914, when the heir to the imperial throne was 10. The two were inseparable and Joy followed Alexei everywhere, even to Stavka (the high command of the armed forces in the Russian Empire). Nicholas II would take Alexei with him, noting that the heir's presence worked magic on the soldiers' mood.
Alexei also loved spending time with his father, mentioning in one of his letters that it was a breath of fresh air after being surrounded by "all those women" in the Alexander Palace. You could hardly blame him, the boy had four older sisters: Olga, Tatiana, Maria and Anastasia.
Whenever Alexei would leave Joy behind, the girls would write to their baby brother about how the dog missed him. It was allegedly their mother, Empress Alexandra Feodorovna, who named the spaniel "Joy."
His optimistic name went well with his character: Joy rarely barked, whimpered or stressed his owners. In a letter from Autumn 1917, during their captivity in Tobolsk, Siberia, Olga wrote to their teacher, Petrov, about how Joy was getting fat because he spent his time outside, ravaging local waste-bins and making friends with locals.
It was precisely this attitude that saved the dog's life when the family was brutally murdered by the Bolsheviks in July 1918. That night, July 16-17, 1918, along with Nicholas II, his wife Alexandra and their five children, the executioners killed four of their staff and their pets who made too much noise. Joy was spared because he didn't whimper and one of the Bolsheviks took him home after all was done.
When Ekaterinburg was later taken over by the White Army (fighting Bolsheviks in the Russian Civil War), Colonel Pavel Rodzyanko recognized Joy and took him to England, where he passed him to King George V (cousin of Nicholas II).
Joy stayed with the British royal family into his senior years and was buried in the Windsor Castle royal pet cemetery. According to Pavel Rodzyanko's grandson, it has been since converted into a car park.
READ MORE: 4,000 photos, 4 social networks, 1 family: #Romanovs100 kicks off with first stories
You can share this story on social media: