'It's like a warzone': Trump takes swipe at London knife crime in speech to NRA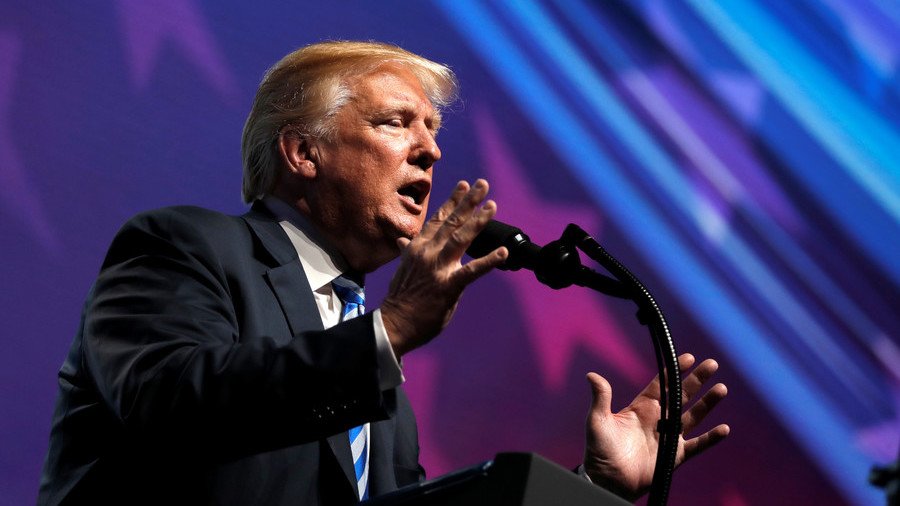 US President Donald Trump has once again sparked controversy with the UK, after telling an audience at a National Rifle Association (NRA) event that a knife crime surge has turned London into a "military warzone."
Addressing the audience at the gun lobby's conference in Dallas, Texas, the president bemoaned the UK's strict laws around firearms and the surge in knife crime and murders in London, by referencing an unidentified "prestigious hospital" which, he said, had victims' blood all over the place.
READ MORE: London murder rate higher than New York's amid surge in knife crime & police cuts
"I recently read a story that in London, which has unbelievably tough gun laws, a once very prestigious hospital right in the middle, is like a warzone for horrible stabbing wounds," Trump said during his second address to the NRA since taking office in January last year. "They don't have guns, they have knives, and instead there's blood all over the floors of this hospital. They say it's as bad as a military warzone hospital."
Trump then appeared to mime a stabbing motion, adding: "Knives, knives, knives, knives, knives – London hasn't been used to that. They're getting used to it."
According to the latest figures from the London Metropolitan Police, more than 14,000 knife crime offences took place in the capital since March 2017, a rise of around 20 percent on the previous year. In the same period, there were more than 2,400 incidents of gun crime, a fall of 4.6 percent.
The dramatized remarks, however, have not gone down well with some commentators, who were quick to take to Twitter to register their disgust. Others viewed the comments as a clarion call to people already planning to protest his state visit to the UK on July 13.
In June last year, Trump stirred up controversy by denouncing London Mayor Sadiq Khan following his response to a bombing. After another attack in September, Trump claimed the London Metropolitan Police had been monitoring the attackers but had done nothing to prevent the incident.
READ MORE: Gleeful Boris ecstatic over impending Trump visit as POTUS set to visit Queen
In November, Trump retweeted Islamophobic videos from the UK far-right group Britain First. After being rebuked by Prime Minister Theresa May, Trump sent another tweet, saying: "Don't focus on me, focus on the destructive Radical Islamic Terrorism that is taking place within the United Kingdom."
Like this story? Share it with a friend!
You can share this story on social media: