London murder rate higher than New York's amid surge in knife crime & police cuts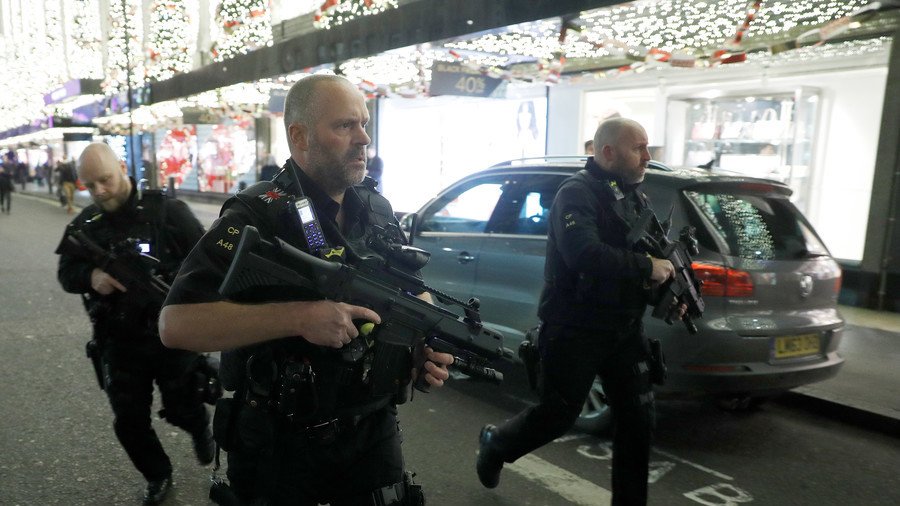 London's murder rate has surpassed New York's for the first time in modern history as knife crime in the British capital hits crisis levels. It comes amid huge police cuts and falling officer numbers.
A total of 37 murders have been committed in London during the last two months, according to a report in the Sunday Times. In February, 15 murders were recorded by the Metropolitan Police compared to 14 in New York, while initial figures for March count 22 killings in London compared to 21 in the US city.
London and New York City have comparable populations of 8.7 million and 8.6 million respectively. NYC''s murder rate has decreased by around 87 percent since the 1990s, while the number of London murders, excluding victims of terrorism, has risen by almost 40 percent since 2014.
The growing knife crime epidemic facing the UK comes amid eight years of cuts to the police service. Police budgets have been dramatically reduced by the Conservatives since 2010, when Theresa May served as home secretary. May argued that a fall in crime seen since the mid-1990s meant it was not necessary to maintain such a large police force. There are now 21,805 fewer police officers than there were in 2010.
The cuts have led to serious concerns around public safety, prompting London Mayor Sadiq Khan to announce plans to invest approximately £60 million (US$85 million) of additional resources in the Metropolitan Police.
"Following massive government cuts to police forces and preventative services over the course of nearly eight years, crime is rising across the country, particularly violent crime such as knife crime and robbery," Khan said. The mayor also called for a meeting with Prime Theresa May to address tackling the scourge.
A former Metropolitan Police detective chief inspector, Peter Kirkham, reiterated this sentiment, stating that London's high murder rate was a direct consequence of the cuts. "I mean there's lots of reasons why societies are more or less violent at different times - socioeconomic reasons, but the obvious change that has happened over the past eight years is the total reduction of policing," Kirkham told RT.
"The Metropolitan Police's murder squad used to solve 90 percent plus of their murders - I'm hearing now they're down below 75 percent because they've been cut back. Every aspect of policing has been damaged," he added.
He said that the only viable solution is to put money back into the police service, although he is not hopeful of a government turnaround.
"The government seem intent on cutting police further and further. The Metropolitan Police are due to lose another £400 million before 2020 and so they're likely to lose between 1,500 and 3,000 further police officers, and so that is going to make things even worse. So my anticipation is that the murder rate and the crime rate generally will just rise exponentially."
Met commissioner Cressida Dick, however, is putting at least part of the blame for knife violence on social media, especially among killings involving younger people. "There's definitely something about the impact of social media in terms of people being able to go from slightly angry with each other to 'fight' very quickly," she said.
The commissioner made the statement as news broke that 13 Londoners were murdered during a two-week period in March. Nine of the murders that happened in February involved victims aged 30 or younger.The first killing of this month happened in the early hours of Easter Sunday morning when a man believed to be aged 20 was fatally stabbed after leaving a bar in Wandsworth.
Knife crime offenses in England and Wales rose by 21 percent last year, according to the latest figures from the Home Office. In July last year, the Met Police launched Operation Sceptre with the aim of reducing knife crime across the whole of London. The operation has resulted in a total of 2,294 arrests, 473 of which were for possession of a knife or weapon, and the recovery and removal of 1,435 weapons from the streets of London, according to police.
READ MORE:Night of knife crime prompts Khan to seek emergency meeting as machete fight VIDEO goes viral
You can share this story on social media: