Trump calls London Mayor Khan 'ignorant' & predicts poor relations with Cameron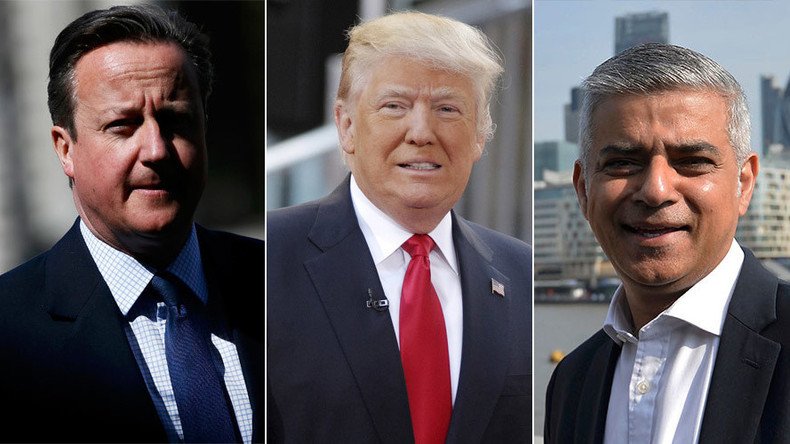 White House hopeful Donald Trump says he is unlikely to have a good relationship with British Prime Minister David Cameron and has suggested London's new Muslim mayor, Sadiq Khan, is "ignorant" and should take an IQ test.
Republican nominee Trump has fought a war of words with British politicians since controversially calling for a ban on Muslims entering the US last year.
Reacting to calls to have Trump banned from the UK for the remarks, Cameron called the property tycoon's proposal "divisive, stupid and wrong."
Trump told ITV: "It looks like we're not going to have a very good relationship, who knows.
"I hope to have a good relationship with him but it sounds like he is not willing to address the problem either," Trump said.
"The world is blowing up and it's not people from Sweden that's doing the damage okay. So we have a real problem."
A spokesperson for Cameron's office says the prime minister stands by his comments.
"The prime minister has made his views on Donald Trump's comments very clear. He disagrees with them.
"He continues to believe that preventing Muslims from entering the US is divisive, stupid and ignorant."
When asked who would prefer to be the next president, the spokesperson said he would not comment on another country's election, Reuters reports.
"He is committed to maintaining the special relationship," the spokesperson said.
Chancellor George Osborne says Britain will hold talks with Trump "in our interests."
"Of course we stand by what we said when he made it clear he didn't want Muslims coming into the United States.
"Both myself, David Cameron and others were pretty clear that was not a view we supported.
"But he's an American presidential candidate and we will talk to him because it is in our interests to talk to our allies like the United States of America."
Trump is expected to visit London this summer during a tour of foreign capitals in the run-up to the American election.
Meanwhile Trump, who had previously wished newly elected London Mayor Sadiq Khan well, says he is offended by Khan's comments that he is ignorant about Islam.
"He doesn't know me, never met me, doesn't know what I am all about. I think they are very rude statements.
"Frankly tell him I will remember those statements. They are very nasty statements. It is ignorant for him to say that.
"When he won I wished him well. Now, I don't care about him. I mean it doesn't make any difference to me. Let's see how he does, let's see if he is a good mayor," Trump said.
A spokesperson for Khan has hit back at the comments, saying: "Donald Trump's views are ignorant, divisive and dangerous - it's the politics of fear at its worst and will be rejected at the ballot box just as it was in London."
Asked if Khan would take up an offer of an IQ test, the spokesperson said: "Ignorance is not the same as a lack of intelligence."
When asked about Britain's membership of the EU, Trump said: "I've dealt with the European Union, it's very, very bureaucratic, it's very, very difficult.
"In terms of Britain I would say 'what do you need it for?'"
United Kingdom Independence Party (UKIP) leader Nigel Farage says he would vote for Trump to be the next president, despite some "reservations."
"Let's put it like this. I couldn't vote for Hillary [Clinton] even if you paid me," Farage said.
"If you put me up against a wall, it's got to be him [Trump], not Hillary. But I have reservations. Encouraging people to beat up protesters, one or two things like that bother me.
"But I tell you what, I think he's going to win," Farage said.
You can share this story on social media: