London's new Muslim mayor Sadiq Khan rejects 'ignorant' Trump's US ban 'exemption'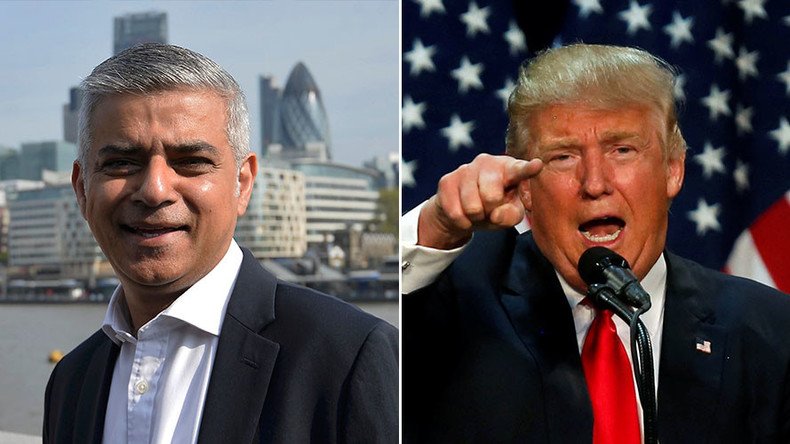 Newly-elected London Mayor Sadiq Khan has snubbed Republican nominee Donald Trump's suggestion he will allowed entry to the US as an exception under any future country-wide ban on Muslims, labelling Trump's views "ignorant."
The first Muslim mayor of a major Western city denounced Trump's proposed ban, arguing it risks radicalizing Muslims around the world.
Khan's comments came after Trump said he was happy to see the Labour politician elected mayor of London.
Asked by the New York Times about his proposed temporary ban on Muslims, Trump said: "There will always be exceptions."
Trump's ignorant view of Islam could make both our countries less safe. It risks alienating mainstream Muslims. London has proved him wrong

— Mayor of London (@MayorofLondon) May 10, 2016
Khan, however, rebuffed the offer on Tuesday and said it was not the solution.
"This isn't just about me – it's about my friends, my family and everyone who comes from a background similar to mine, anywhere in the world," the London mayor said.
"Donald Trump's ignorant view of Islam could make both our countries less safe – it risks alienating mainstream Muslims around the world and plays into the hands of the extremists.
"Donald Trump and those around him think that Western liberal values are incompatible with mainstream Islam – London has proved him wrong."
Hillary Clinton said that it is O.K. to ban Muslims from Israel by building a WALL, but not O.K. to do so in the U.S. We must be vigilant!

— Donald J. Trump (@realDonaldTrump) January 2, 2016
Khan announced last night he will visit the US before the presidential election "in case Donald Trump wins."
He told Time magazine: "If Donald Trump becomes the president I'll be stopped from going there by virtue of my faith, which means I can't engage with American mayors and swap ideas."
Trump has become the Republican Party's de facto nominee after rival candidates Ted Cruz and John Kasich dropped out of the race last week.
Speaking to the New York Times, Trump welcomed Khan's election to City Hall last week.
"I think it's a very good thing, and I hope he does a very good job because frankly that would be very, very good," he said.
"Because I think if he does a great job, it will really — you lead by example, always lead by example. If he does a good job, and frankly if he does a great job, that would be a terrific thing."
Khan has attacked Trump's highly controversial election campaign, during which the billionaire property mogul described Hispanic immigrants as criminals and proposed building a wall along the US border with Mexico.
Although Trump is now the presumptive Republican candidate in November's presidential election, he could still face a challenge at the party's National Convention in July.
You can share this story on social media: