Politicians upset over Boeing deal with Iran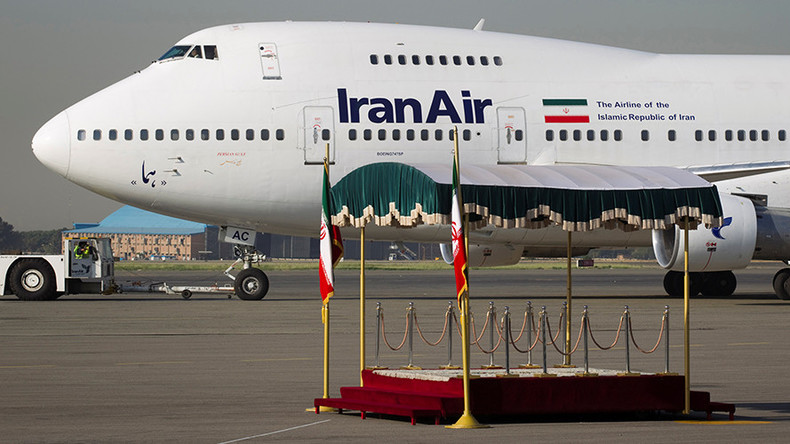 Boeing has announced a second deal with an Iranian airline, drawing howls from Capitol Hill. Republicans seeking to punish Iran oppose the agreement, though they may be powerless to stop it.
Members of Congress opposed to a 2015 nuclear agreement – signed by Iran and the US, among others – that lifted some economic sanctions on Iran expressed dismay with the Boeing announcement. The 2015 pact limited Tehran's nuclear capabilities while easing sanctions imposed by the US on Iran and Iranian firms.
US Senator Marco Rubio (R-Florida) said the deal with an Iranian company is "concerning," Bloomberg News reported, adding that he "maybe" will consider working to block it.
Yet Sens. Ben Cardin (D-Maryland) and John McCain (R-Arizona) said there isn't much Congress can do to stop the deal.
"I have opposed the Iranian agreement and I am not interested in doing anything to help the Iranians but what they've done is completely legal," McCain said, according to Bloomberg News. "They've got the money and it's not a weapons system, so it doesn't require any involvement from the Congress."
On Tuesday, Boeing confirmed signing an agreement with Iran Aseman Airlines for the 737s, delivery of which would begin in 2022. The deal comes with an option of 30 or more 737 MAX planes at a later date. Citing the US Department of Commerce, Boeing said the deal "creates or sustains" around 18,000 jobs in the US. The deal must be approved by the US government before it is finalized, Boeing said.
The announcement comes months after Boeing agreed to a separate, $16.6 billion deal with Iran Air for 80 passenger planes.
Boeing's dealings with Iranian companies indicate the multinational aerospace and defense company wants to be the first in 40 years to sell and export American aircraft to Iranian entities.
Boeing said its negotiations were authorized by the US government and based on Iran's compliance with the 2015 nuclear agreement.
The deal came about after several rounds of talks between the two companies in the past year. He added that the two companies signed the deal on March 18, Aseman spokesman Amir Reza Mostafavi told AP.
During his campaign for president, Donald Trump joined most congressional Republicans in opposing the nuclear agreement that involved a relief of sanctions. Two months ago, the administration levied new sanctions against certain individuals and businesses under Iran sanctions authority.
"Iran has been formally PUT ON NOTICE for firing a ballistic missile. Should have been thankful for the terrible deal the U.S. made with them!" Trump tweeted in early February after reports of Iran missile test. Trump added: "Iran was on its last legs and ready to collapse until the U.S. came along and gave it a life-line in the form of the Iran Deal: $150 billion."
In addition, Iran is part of the Trump administration's travel ban, currently undergoing legal challenges in multiple federal courts.
However, Trump has also vowed to provide an additional boost to the American manufacturing sector. The US Office of Foreign Assets Control will ultimately decide the deal's fate.
In November, the US House of Representatives approved legislation that aimed to bar commercial airline deals with Iran, yet the US Senate did not address the legislation. Based on the beginning of a new congressional session in January, the House would have to pass another measure to revive the effort in 2017.
Aseman was blacklisted by the European Union in December based on safety issues, AP reported. Aseman also recently entered into a seven-plane agreement with European company Airbus.
Iran Air also recently signed an agreement with Airbus for 118 planes worth $25 billion.