Halt on Trump travel ban extended indefinitely by Hawaii judge
Published time: 30 Mar, 2017 03:08
Edited time: 24 Feb, 2018 10:09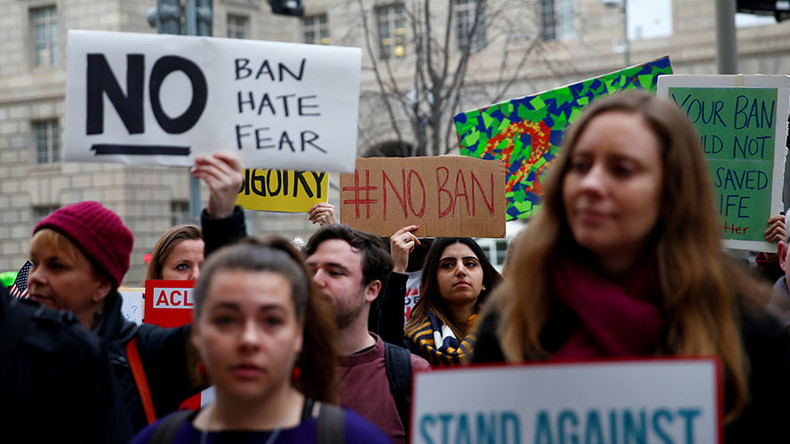 US District Court Judge Derrick Watson has extended his halt on enforcement of President Donald Trump's executive order travel ban, from a temporary order to an indefinite one in a new preliminary injunction.
On Wednesday, Judge Watson issued the permanent preliminary injunction after hearing arguments from the Hawaii attorney general and the US Department of Justice.
The travel ban prohibits citizens of six Muslim-majority countries from entering the US. Judge Watson determined that to be religious discrimination and a violation of the US Constitution.
During the hearing, Department of Justice attorney Chad Readler asked Watson to narrow the ruling to halt only the part of the order restricting visa applicants, noting that only 20 refugees have resettled in Hawaii since 2010.
"Is this a mathematical exercise that 20 isn't enough? ... What do I make of that?" Watson asked Readler, according to the Associated Press.
Judge Watson initially issued a temporary block on March 15, hours before the revised executive order signed March 6 was set to go into effect. That temporary order was set to expire by tomorrow, but will now be extended.
The Trump administration has chosen not to appeal Watson's decision, but instead to appeal a Maryland court ruling. By doing so, the case will go to the 4th Circuit, instead of the 9th Circuit, which has also ruled against the travel ban. The 4th Circuit hearing is set to begin May 8.
Trump has also vowed to take the legal fight to the Supreme Court.
Last week it was reported that Judge Watson was under 24-hour federal protection after receiving threats in retaliation for his ruling against the executive order.