'Arbitrary role of geography': Justice slams SCOTUS decision to dodge death penalty question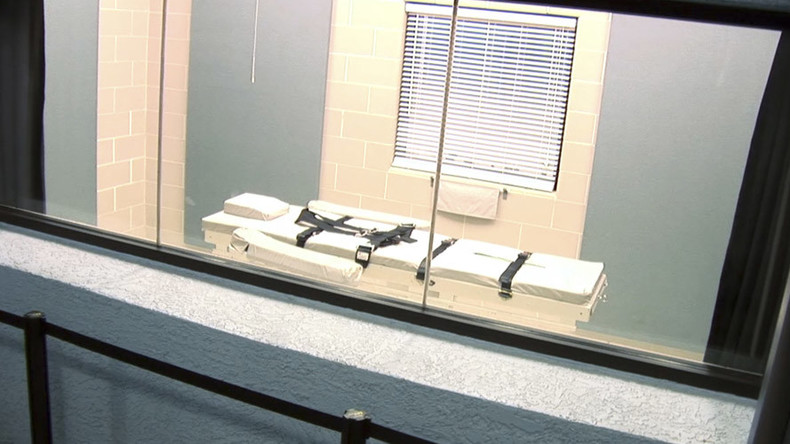 The US Supreme Court declined to hear a direct challenge to the death penalty's constitutionality, rejecting a Louisiana inmate's appeal. One justice, however, was disturbed by the decision and criticized the role geography plays in capital punishment.
Marcus Reed, a death row inmate from Caddo Parish, Louisiana, argued in his appeal that the death penalty is cruel and unusual punishment, and thus unconstitutional under the 8th and 14th Amendments because "there is no national consensus against the death penalty," and that it was "arbitrarily and capriciously applied" in his case.
Reed, now 39, was convicted of murdering three brothers, one of whom was 13, over the theft of marijuana and an Xbox videogame console from his home in 2010. It took the jury a mere two hours to sentence Reed to death, shocking even the prosecutors in the case, as they told KTBS at the time.
On Monday, the Supreme Court denied Reed's appeal without an explanation or a tally of the vote. However, Justice Stephen Breyer issued a dissenting opinion in the case, arguing that the location of the crime ‒ "a county that in recent history has apparently sentenced more people to death per capita than any other county in the United States" ‒ played an arbitrary role in Reed's punishment.
"The arbitrary role that geography plays in the imposition of the death penalty, along with the other serious problems I have previously described, has led me to conclude that the Court should consider the basic question of the death penalty's constitutionality," Breyer wrote.
The district attorney in Caddo Parish is one of three in the country who is personally responsible for 131 death sentences ‒ or more than the total death row populations of 15 states ‒ and equivalent to roughly 15 percent of the current death row population, according to Harvard University Law School's Fair Punishment Project. The Louisiana jurisdiction is among the 2 percent of counties responsible for 56 percent of current death row residents, the nonprofit Death Penalty Information Center found.
It's not the first time that the Supreme Court has refused to hear a death penalty challenge from Caddo Parish. In that previous case, Tucker v. Louisiana, LaMondre Tucker, who as an 18-year-old in 2008 shot and killed his pregnant girlfriend, argued that the jurisdiction "imposes more death sentences per capita than any other parish or county in the nation."
Breyer also dissented then, again citing geography as a mitigating factor.
"Tucker was sentenced to death in a Louisiana county (Caddo Parish) that imposes almost half the death sentences in Louisiana, even though it accounts for only 5 percent of that state's population and 5 percent of its homicides," Breyer wrote in his dissent, which was supported by Justice Ruth Bader Ginsburg. "[O]ne could reasonably believe that if Tucker had committed the same crime but been tried and sentenced just across the Red River in, say, Bossier Parish, he would not now be on death row."
While the Supreme Court may not view geography as a factor in whether a person is sentenced to die, it has ruled more than once that it is illegal for race to come into play during capital trials.
On Wednesday, the Supreme Court ruled that race cannot be a factor in sentencing a person to death. In Buck v. Davis, the justices declared that the plaintiff should get a new sentencing hearing because the jury was unfairly tainted by expert testimony that said the man was likely to commit future violence because he was black. In May, the high court ruled in Foster v. Chatman that prosecutors could not exclude all potential black jurors from a death penalty trial when the defendant is African-American.
Breyer has repeatedly called on his fellow justices to consider "whether the death penalty violates the Constitution," after the Supreme Court ruled in June 2015 that lethal injections are constitutional. Since then, the top courts in Connecticut, Delaware and Florida have ruled the death penalty unconstitutional, while in states like Ohio capital punishment is in legal limbo.