SCOTUS refuses death sentence appeal from area with 'most capital punishments per capita' in the US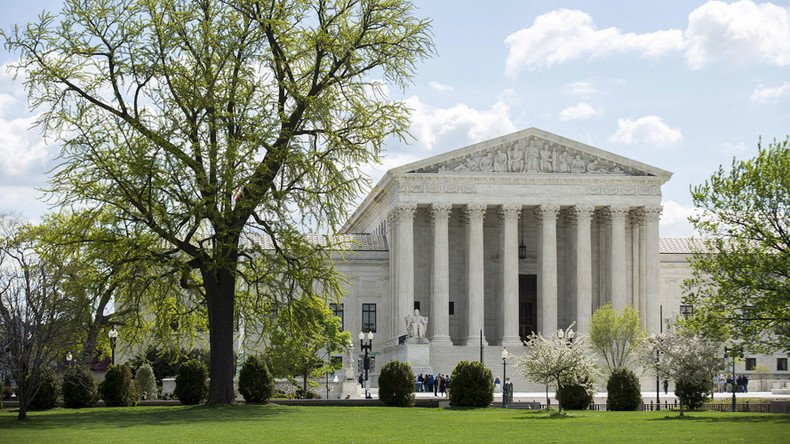 The US Supreme Court reversed a death sentence for an Arizona convict, but denied a constitutional challenge to state executions by a Louisiana man from the area that has imposed the most death penalties per capita in the nation.
With two justices dissenting, the Supreme Court refused without comment an appeal in the case LaMondre Tucker v. Louisiana. Tucker, who as an 18-year-old in 2008 shot and killed his pregnant girlfriend, argued that the jurisdiction where he was sentenced to death — Caddo Parish, Louisiana — "imposes more death sentences per capita than any other parish or county in the nation."
In its challenge of the death penalty based on Sixth, Eighth, and Fourteenth Amendment protections in the US Constitution, Tucker's legal team posited that "severe geographic isolation" characterizes capital punishment sentences in the US. They argued that "the Court should consider whether Louisiana's standard-less mechanism for deciding who should live and who should die is so unhinged from constitutional principles that it cannot sustain the death sentence in this case."
In his dissent, Justice Stephen Breyer said the court should have heard Tucker's appeal. Pointing out that the Supreme Court has halted executions of juvenile criminals and the intellectually disabled, Breyer said that at the time of the crime, Tucker was barely eligible at age 18 and had an IQ of 74.
"Tucker was sentenced to death in a Louisiana county (Caddo Parish) that imposes almost half the death sentences in Louisiana, even though it accounts for only 5 percent of that state's population and 5 percent of its homicides," Breyer wrote in his dissension, which was supported by Justice Ruth Bader Ginsburg.
"Given these facts, Tucker may well have received the death penalty not because of the comparative egregiousness of his crime, but because of an arbitrary feature of his case, namely, geography." Breyer went on, adding that "one could reasonably believe that if Tucker had committed the same crime but been tried and sentenced just across the Red River in, say, Bossier Parish, he would not now be on death row."
Breyer has previously called on his fellow justices to consider "whether the death penalty violates the Constitution," in the dissenting opinion in Glossip v. Gross, a 2015 challenge to the three-drug protocol for executions that was eventually denied by the court.
In another case, Lynch v. Arizona, the high court reversed a death sentence, arguing that prosecutors blocked the defense from telling the jury considering a sentence for Shawn P. Lynch that the only alternative option to the death penalty was life without parole. Lynch was convicted of the 2001 kidnapping and murder of a man in Scottsdale, Arizona.
Citing a 1994 decision that required a jury to be told of alternative sentencing options, the Supreme Court rejected the state of Arizona's arguments that Lynch was a risk of future danger and, thus, a death sentence was warranted.
In a dissent supported by Justice Samuel Alito, Justice Clarence Thomas wrote that the court's ruling "imposes a magic-words requirement," and injects too much meddling into state sentencing proceedings.
You can share this story on social media: