Stay of execution granted to Alabama death row inmate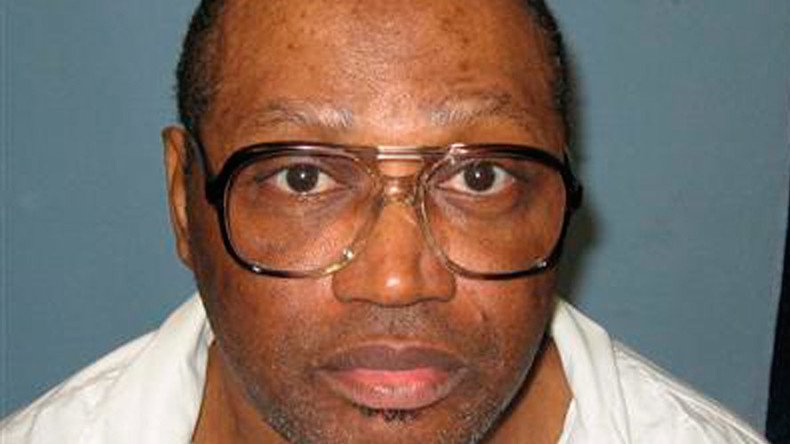 Vernon Madison spent the better part of three decades struggling to get off of Alabama's death row, and now a federal appeals court has agreed to grant him a stay of execution. The word arrived mere hours before he was scheduled to die by lethal injection.
Having sat on death row since 1985, Vernon Madison seemed as good as gone on Thursday. Protest and prayer vigils were planned in three different cities in Alabama, but it seems that they are to be postponed, just as the lethal injection has been.
Madison was scheduled to receive his injection at 6:00pm on Thursday. However, a three-judge panel from the US Court of Appeals issued an order earlier on the same day that stayed the execution in order to evaluate his mental competency, The Washington Post reported.
Due to a history of strokes and medical conditions, the 65-year-old Madison is suffering from dementia. His attorneys told The Washington Post that Madison has "an inability to rationally understand why the state of Alabama is seeking to execute him."
The state of Alabama is not responding well to the Court of Appeals decision. The state's attorney general filed a motion with the Supreme Court to vacate the stay, claiming that the appeals court had overstepped the bounds of Alabama's judicial branch and would "add insult to that injury by granting a stay of execution."
The Supreme Court is not getting involved with the case. In a split vote – an increasingly common result with an even number of justices – the Supreme Court resolved to deny the motion to vacate the stay later on Thursday.
Attorneys and supporters of Madison feel that his execution is a violation of the Eighth Amendment, which bars cruel and unusual punishment. In addition, the Supreme Court's decision in January to rule Florida's sentencing of the death penalty unconstitutional could sway the decision in Madison's favor.
In most states, a jury is required to impose the death penalty. However, in Florida, a judge is allowed to unilaterally sentence a prisoner to death. This is relevant, because Alabama's system is nearly identical.
Madison's attorneys have until late June to prepare for oral arguments.
Vernon Madison was charged and convicted of murdering Mobile police Corporal Julius Schulte in 1985. Schulte was responding to a missing child report from Madison's girlfriend, Cheryl Ann Greene, about her 10-year-old daughter.
Schulte arrived to learn that it had been a misunderstanding. However, he was in time to hear a domestic disturbance between Greene and Madison. According to AL.com, Greene testified that Schulte said, "Son, just get your things and go. Don't create a disturbance in the street."
Instead of leaving, Madison shot Schulte through the driver's window and Greene in the back as she tried to flee. Greene survived the incident, Schulte did not. The officer was remembered for his compassion in the community.
Michael Schulte, the corporal's son, told AL.com, "It was just cool to watch his method, to watch how he could disarm people [emotionally],"
"He was also a good investigator," he said.
You can share this story on social media: