Ohio executions halted, judge rules lethal injection cocktail unconstitutional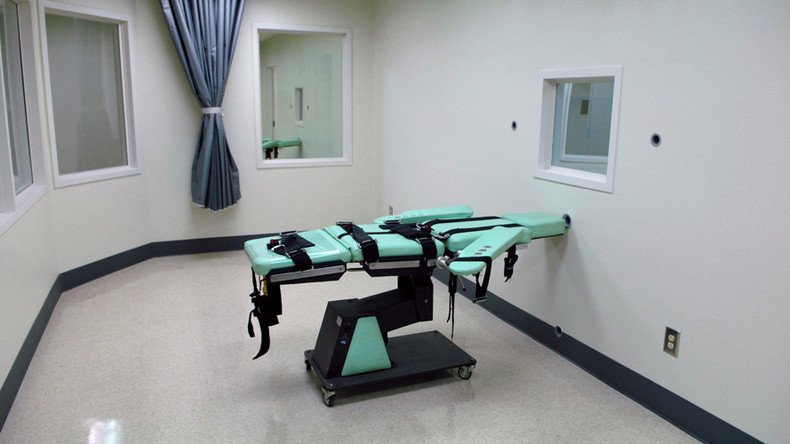 A federal judge has ruled that Ohio's three-drug lethal injection protocol for carrying out death penalties is unconstitutional, delaying three pending state executions.
Magistrate Judge Michael Merz of Dayton ruled Thursday that Ohio's use of the sedative midazolam, the first chemical used in the state's three-drug death cocktail, violates a US Supreme Court ruling that says death row inmates should not be exposed to "substantial risk of serious harm," as they are still constitutionally protected from cruel and unusual punishment.
Judge: sedative midazolam, which is also used in VA executions, doesn't pass Supreme Court bar of causing "substantial risk of serious harm" https://t.co/CWcFKcgRxx

— Sarah Vogelsong (@SVogelsong_PI) January 26, 2017
Attorneys for three Ohio death-row inmates argued that midazolam is unlikely to relieve pain prior to the administration of the second and third drugs in the state's equation – rocuronium bromide, which paralyzes the inmate, and potassium chloride, which causes cardiac arrest. Merz also barred the state from using the second and third drugs.
State attorneys said the three-drug policy was similar to Ohio's past lethal injection protocol that was upheld by courts, while arguing that the US Supreme Court had allowed the use of midazolam in a decision announced last year.
Although the state announced its intention to use the three-drug procedure in October, the move is "completely inconsistent with the position" Ohio took following the bungled execution of Dennis McGuire in 2014, when the state said it would no longer use the drugs to put inmates to death, Merz said.
Ohio has not put an inmate to death since January of 2014, when convicted murderer McGuire was administered a previously untested two-drug procedure, the first drug being midazolam. McGuire gasped for air and visibly struggled as it took 26 minutes for him to die, the state's longest execution since it resumed capital punishments in 1999, AP reported.
Ohio executions have been on hold since McGuire's death, as the state, like other death penalty states, has had difficulty obtaining lethal injection drugs in recent years because European drug makers have been refusing to sell drugs used in executions to US states with the death penalty.
Due to the shortage, states have been turning to compounding pharmacies and other shadowy sources for lethal-injection drugs, risking botched procedures, such as those used on McGuire and Oklahoma's Clayton Lockett in 2014.
Like other active death penalty states, Ohio does not disclose where it receives its lethal injection drugs from.
State prison officials told Merz during testimony earlier this month that they are seeking a midazolam reversal drug to halt a lethal injection in case a prisoner is not safely rendered unconscious.
Merz's decision came following a week of testimony on the three-drug plan. The next lethal injection in Ohio was planned for February 15, but the judge delayed that execution and two others scheduled for the coming months.
Court documents show that Ohio has the sufficient supply of the three-drug cocktail for "dozens" of executions, AP reported.
You can share this story on social media: