Ohio judge suspends all executions, citing botched lethal injections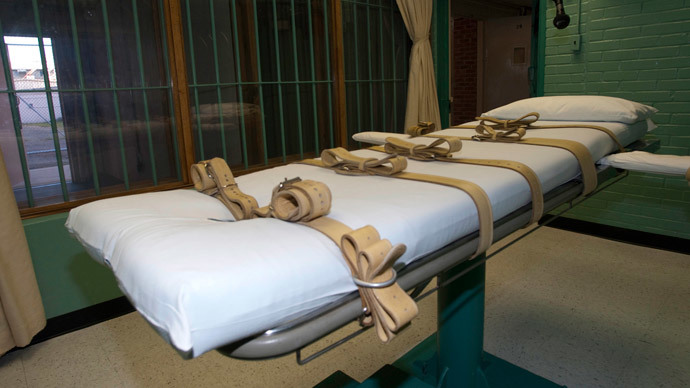 A US judge has suspended all scheduled executions in the state of Ohio for at least two and a half months so authorities can determine the legality of the state's new lethal injection process, which critics say is in violation of the US Constitution.
Lethal injection, which remains popular with Americans in the 32 states where it is employed, is under scrutiny after a number of executions went wrong. The most recent incident took place last month in Oklahoma, when an inmate spent 40 minutes gasping while fading in and out of consciousness before ultimately dying of a massive heart attack.
The disturbing description of that prisoner's death prompted international condemnation on the already controversial practice.
In 2011 the European Union, citing its anti-torture regulation, voted to halt the shipment of all drugs used in the lethal injection process to US states where capital punishment is still legal. Prison officials in those states turned to local pharmacies but have refused to disclose which drugs are being used in order to prevent demonstrations.
Like the Oklahoma execution in April, a controversial drug cocktail was also used to devastating effect in a January execution in Ohio. Dennis McGuire was put to death on January 16 but, instead of going unconscious and peacefully slipping away, he loudly choked and clenched his body for 26 minutes after the drugs were administered.
In response, the Ohio Department of Rehabilitation and Correction said it would continue to use the same drugs that were used to kill McGuire, albeit in larger doses in the future. The sedative midazolam, 10 milligrams of which was used in the McGuire execution, will now be given in 50 milligram doses.
Hydromorphone, a painkiller, will be increased from 40 milligrams to 50 milligrams, and a third syringe of 60 milligrams of hydromorphone will be ready to be administered "if needed," according to the Columbus Dispatch.
US District Judge Gregory Frost ordered the moratorium this week in response to the Department of Correction's announcement, saying that state prosecutors and anti-lethal injection advocates both need time to formulate their legal arguments on the issue.
Jon Paul Rion, a lawyer representing the surviving McGuire family in a suit against Ohio, told the Cleveland Plain Dealer the moratorium was a step in the right direction, but more needs to be done to prevent cruel and unusual punishment.
"I'm thankful that time is being given to fix a problem that clearly needs attention," he said. "Our fundamental concern, speaking for the McGuire family, is that we are using therapeutic drugs for non-therapeutic purposes. Trying to create a protocol to use these drugs for executions seems to be a difficult task."
"We're concerned because there is no scientific correlation between the new [higher] doses or a scientific study that demonstrates either protocol is more effective," he added.
The judge's order delays two scheduled executions. Ronald Phillips, convicted in the 1993 rape and murder of a three-year-old girl, was scheduled to die by lethal injection on July 2. William Montgomery, whose conviction was overturned in 2007 only for the US Supreme Court to decline hearing the matter, will also have his August 6 execution delayed.
Frost's moratorium is just the latest update in an ongoing national debate over the death penalty. The Supreme Court reinstated the death penalty in 1976 and, while the number of executions peaked in 1999, fewer and fewer states still go through with the procedure. Six states have stopped the practice in the past eight years alone.
With an increasing number of states unable to obtain the drugs necessary to carry out executions, lawmakers who still preside over states where capital punishment is legal have been forced to become more creative.
Some politicians have vocally considered bringing back firing squads or the gas chamber, while Tennessee reauthorized the use of the electric chair last week. The chair will only be used in the event that Tennessee is unable to obtain the necessary lethal injection drugs, although Richard Dieter of the Death Penalty Information Center said that it will be the only state where inmates have no choice but to be electrocuted.
"There are states that allow inmates to choose, but it is a very different matter for a state to impose a method like electrocution," Dieter told US News and World Report. "No other state has gone so far."
Ohio legal teams will have until August 15 to formulate their legal arguments over the state's lethal injection policy.
You can share this story on social media: