Media outlets sue Missouri to get details about secret execution drugs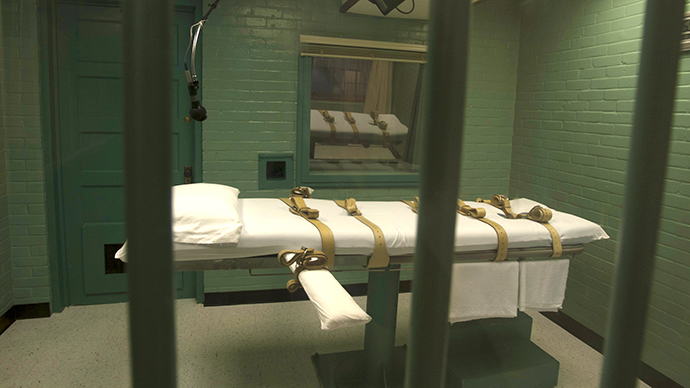 Five separate media organizations have joined together to file a lawsuit against the state of Missouri, challenging the state's policy of keeping secret its source of lethal injection drugs.
The lawsuit claims Missouri's insistence on not revealing where it purchases execution drugs or the process behind their development keeps the public from overseeing the state's implementation of the death penalty.
The lawsuit was filed by the Associated Press, the US edition of the Guardian, the Kansas City Star, the St. Louis Post-Dispatch, and the Springfield News-Leader.
According to the AP, the media outlets are calling on a state judge to force the revelation of Missouri's source of lethal injection drugs, their chemical composition, and their quality
"We assert that there is a constitutional right for the public to know the drugs that are used when a state puts someone to death," Dave Schulz, an attorney for the news organizations and co-director of the Media Freedom and Information Access Clinic at Yale Law School, said to the news service.
Additionally, the lawsuit inquires about the testing methods used to determine quality as well as the credentials of the people involved in the process.
The composition of lethal injection drugs has become a point of contention ever since European pharmaceutical companies stopped selling them to US state correctional departments. Citing moral objections to the death penalty, these companies halted sales and subsequently left many states scrambling to find alternatives as their stocks expired or ran out.
As a result, many have begun purchasing various chemicals from compounding pharmacies, which manufacture the drugs but are not regulated by the Food and Drug Administration as closely as other facilities. Attempts to force states such as Missouri and Texas to reveal their drug sources have so far been unsuccessful, and states have argued that keeping them secret is necessary to prevent threats of violence and boycott.
Just last month, Missouri executed a convicted killer named William Rousan after the courts dismissed efforts to spare his life due to secrecy concerns.
Critics of keeping the drug sources and composition secret have voiced concerns over the potential that these drugs – since they are created by pharmacies not heavily regulated – could cause unnecessary pain to an inmate, thus violating their constitutional right to be spared cruel and unusual punishment.
These concerns became more widespread in January when the execution of convicted killer Dennis McGuire in Ohio went wrong; it took about 25 minutes for McGuire to die after he was injected with a controversial combination of drugs, and the time was marked by him noticeably struggling and gasping for air.
An execution in Oklahoma in late April thrust the conversation back into the spotlight as well, when inmate Clayton Lockett was given an "overdose" of lethal injection drugs that were not disclosed by the state. Lockett remained awake for a noticeably longer time than typical for an execution, and eventually died in pain from a heart attack. Another inmate, scheduled to undergo an execution that same day, was granted a temporary stay.
A couple of weeks later, a Texas appeals court also issued a stay of execution for an inmate who lawyers argue is intellectually disabled. The inmate's defenders also raised concerns over the fact that, in the wake of the botched Oklahoma execution, Texas will not disclose where its lethal injection combination comes from or what chemicals are involved.
You can share this story on social media: