Oklahoma inmates win stay of execution after appealing untested lethal drugs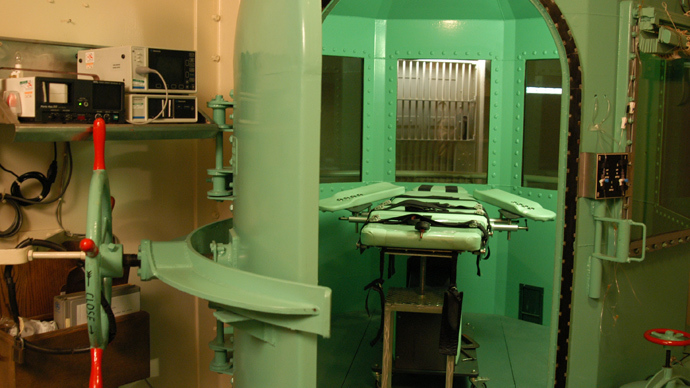 The judges of the Oklahoma Supreme Court decided in a 5-4 decision late Monday to grant stays of executions sought by attorneys representing two inmates scheduled to be executed this month with an untested drug cocktail.
Lawyers for convicted killers Clayton Lockett and Charles Warner asked that the state of Oklahoma put plans to use the death sentence against both men on hold because they said their clients have the right to learn about new execution drugs prison officials received to administer lethal injections.
But the attorneys' pleas went unanswered until it was almost too late: hours earlier on Monday this week, the state's Court of Criminal Appeals said it had no jurisdiction over the matter and lawyers for the inmates responded by immediately petitioning the Oklahoma Supreme Court for a stay.
"To date, appellants have received no certifications, testing data, medical opinions or other evidence to support the State's insistence that these drugs are safe, or to prove that they were acquired legally," attorneys for the men wrote the high court.
Hours later, the State Supreme Court agreed on granting a stay for both men "until final determination of all the issues presently pending" because the case raised "grave first impression constitutional issues," according to the panel's majority decision.
Lockett was scheduled to be executed hours later at 6 p.m. local time had the stay not been granted. Warner's execution had been set for April 29.
"We are relieved, and extremely grateful to the Oklahoma Supreme Court for its reasonable decision to stay the scheduled executions...," attorneys Susanna Gattoni and Seth Day said in a statement emailed to Reuters on Monday. The two lawyers jointly represent both men.
But Oklahoma Attorney General Scott Pruitt said in a statement of his own that the State Supreme Court "acted in an extraordinary and unprecedented manner" by granting the stay, and in turn had created "a constitutional crisis for our state" as a result.
Pruitt told Reuters late Monday that he was unsure how he would respond to the high court's decision, but previously he advocated moving forward with the executions unless anything short of a stay was granted.
"Justice has been delayed," Pruitt said earlier this month, local network KFOR News reported at the time. "Justice has been denied because of a perceived problem with the fact that we don't provide the source of our drugs."
Not only did attorneys for the criminals object to the use of drugs from unknown sources, however, but also to the fact that such a combination had never previously been used to kill an inmate.
"The five combinations include at least four that would require compounded medicines, which carry significant risks of contamination, dilution, and counterfeiting," Lockett and Warner's attorneys wrote when they first unsuccessfully petitioned the Oklahoma Court of Criminal Appeals. "They also include two methods that have never been used in Oklahoma, and involve novel drug combinations and dosages never before used in any execution in this country. To say that this new protocol raises concerns about the safety and efficacy of the specified methods would be an understatement."
On Monday this week, the Supreme Court said the Court of Criminal Appeals' failure to grant the stay "left this court in an awkward position" to grant the attorneys' request amidst concerns regarding technicalities over jurisdiction.
In their statement, the attorneys said Monday that "The Oklahoma Supreme Court will be able to fully adjudicate the serious constitutional issues about the extreme secrecy surrounding lethal injection procedures in our state."
Gattoni and Day's victory this week is only the most recent example of attorneys as of late fighting to get details about lethal execution drugs disclosed by the court. A shortage of these drugs in the US has worsened in recent years largely on account of the European pharmaceutical companies who manufacture the doses refusing to do business with clients who wish to use their product for capital punishment. That shortage has forced prisons to seek new drugs from elsewhere, although death penalty opponents have argued that such narcotics must be fully audited and analyzed before incorporated into the lethal injection process.
Earlier this year, the execution of an Ohio inmate on death row was called an "agonizing experiment" after the man reportedly withered and gasped for 25 minutes upon being administered a lethal dose of untested drugs. Last week, a man killed in Texas by lethal injection reportedly commented, "It does kind of burn. Goodbye" as his last words.
You can share this story on social media: