Last words of executed Texan: 'It does kind of burn'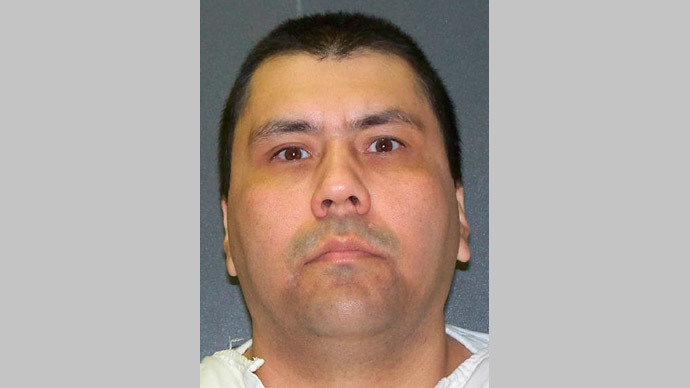 Texas executed its seventh inmate this year on Wednesday, after the prisoner's attorneys failed to convince the Supreme Court he was mentally ill and should not be killed.
Convicted murderer Jose Villegas, 39, was originally sentenced in 2001 for stabbing and killing his ex-girlfriend, her son, and her mother on Corpus Christi. Villegas was executed using a fresh stock of pentobarbital, which was acquired by the Corrections Department from an unnamed provider.
According to the Associated Press, when asked if he wanted to make a statement before the lethal injection was administered, Villegas said, "I would like to remind my children once again I love them. Everything is OK. I love you all, and I love my children. I am at peace."
When the pentobarbital was starting to take effect, Villegas commented, "It does kind of burn. Goodbye." Roughly 11 minutes passed before Villegas died. He reportedly "gasped several times, then started to breathe quietly. Within less than a minute, all movement had stopped."
Lethal injection procedures across the United States have come under heavy scrutiny as many state correctional departments have found their supply of drugs dwindling. Most of the drugs' manufacturers are European, and have stopped selling to states intending to use them for executions.
As a result, some departments have turned to compounding pharmacies to acquire the drugs, which are not regulated as closely by the Food and Drug Administration as other pharmacies are. Fearing the possibility that the drugs may not be produced properly and could cause unnecessary pain, some inmates have sued hoping to learn more about their source – but Texas has so far denied releasing such information. Villegas was the third inmate executed using drugs from a secret supplier.
As RT reported earlier in April, federal courts upheld the state's right to keep the sources secret. Texas stated that it will not disclose its provider in order to protect it from threats of violence.
According to the AP, the Supreme Court also recently upheld this position.
In Villegas' case, his attorneys argued that with an IQ of 59, the Supreme Court should have ruled him ineligible for execution. Texas officials, meanwhile, stated that tests undertaken prior to Villegas receiving an execution date countered the allegation that he had low IQ. They also questioned why, after 10 years, his attorneys did not bring up his mental health until days before the procedure was set to take place.
After witnessing the execution, prosecutor Mark Skurka told the AP, "I was struck by the calm and peacefulness inside that room as opposed to the utter terror the victims must have been in as Jose Luis Villegas stabbed them."
"He made no attempt to make peace with the family, apologize to the family or show any remorse for taking the lives of three people," he added. "The family expressed to me that they are glad that this is finally over and that justice has finally been done, even though it took a very long time in their minds for this to happen."
You can share this story on social media: