August heat: 6 cops shot, 103 people killed by police in US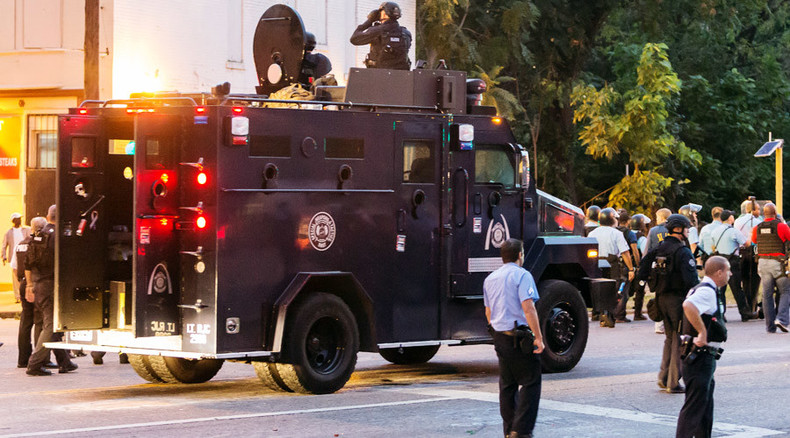 Trust between police and public is falling as more questionable use of lethal force and brutal treatment of suspects hits the news. Officers are also concerned over the ferocity of attacks against them. August's death toll paints a worrying picture.
No US government agency tracks the number of civilians killed by the police. Two mainstream newspapers, the Washington Post and the Guardian, have kept records of police shootings in 2015 putting them at 82 and 99 in August respectively. The "Killed by Police" project, launched in May 2013, chronicles all civilian deaths by police officers, regardless of the method. Their numbers stand at 103 civilian deaths this month, and 791 so far in 2015.
While that number is slightly lower than 125 deaths recorded in July, the number of police killed by suspects has risen sharply – from one in July to six in August, according to a nonprofit that tracks officers killed in the line of duty.
Black Lives Matter
Three 'officer-involved shootings' over the past month attracted national attention. In the early morning hours of August 7, an officer from the Arlington, Texas police force shot and killed Christian Taylor, 19. Six officers responded to a burglary call at a car dealership around 1 am, and found Taylor inside. Security footage shows the Angelo State University football player vandalizing cars. One officer, who was still in training, confronted Taylor by himself and fatally shot the teen. Identified as Brad Miller, 49, he was fired by the Arlington PD for "questionable decision-making."
Two days later, during the memorial march for Michael Brown in Ferguson, Missouri, another young African-American was shot by police. Tyrone Harris Jr, 18 was involved in a gunfight with police officers, and was taken to a hospital in critical condition. Surveillance footage from the shopping center where the incident took place shows Harris holding a gun. Harris's family maintains his innocence.
On August 19, police in nearby St. Louis raided a suspected drug house. Two men fled the scene, and the officers claim one of them pointed a gun at them. They fatally shot Mansur Ball-Bey, 18, while the other man escaped. The autopsy found that Ball-Bey was hit from behind, throwing suspicion on the official account of the shooting. Three illegal guns and crack cocaine were found at the house.
A surrendering suspect and an innocent bystander
Less known are the cases of a San Antonio man killed with his hands up, and an innocent bystander mowed down by an undercover officer in New York.

Gilbert Flores, 41, was killed on August 28. While the initial police report claims that he was resisting arrest after a domestic disturbance call, a video recording from a bystander shows Flores with his hands up before he is shot. Bexar County judge Nelson Wolff said the video was "very shocking and looks very bad," while another county official called it "disturbing." Officers Vasquez and Sanchez were placed on administrative leave pending the outcome of the investigation.
An undercover officer with the New York Police Department opened fire on a robbery suspect on August 29, seriously injuring the man – and killing Felix Kumi, 61, an innocent bystander. The officer fired anywhere between 11 and 21 shots, hitting cars, shop windows and the front door of a nearby house. The NYPD is now reviewing the tactics used by the undercover officer. Police Commissioner Bill Bratton has issued condolences to the family of Kumi, whom he described as "blameless."
No crutches - or singing - allowed
"These are my crutches. I use these to walk," a homeless black man tried to explain, as a dozen San Francisco Police Department officers pinned him to the ground on August 4. They were responding to a call about a suspicious man waving some 'sticks' around.
An Allentown, Pennsylvania resident also had a painful encounter with the law on August 14, after singing a Beach Boys song outside a pricey restaurant. A video filmed by a bystander shows Jim Ochse, 61, getting wrestled to the ground by a police officer after insisting he had a right to sing in public.
Cop lives matter, too
Police deaths in line of duty have been tracked since 1996 by a nonprofit called Officer Down Memorial Page (ODMP). According to their database, fourteen law enforcement officers died in August: two from heart attacks, six in traffic accidents, and six from gunfire.
On August 1, Officer Sean M. Bolton of Memphis, Tennessee was killed when he interrupted a drug deal. Four days later, Officer Thomas LaValley of Shreveport, Louisiana was killed by a murder suspect he was pursuing.
Deputy Sheriff Carl Howell, of Carson City, Nevada, was responding to a domestic disturbance call on August 15 when he was shot and killed by a suspect. A domestic disturbance call also turned out deadly for Officer Henry Nelson of Sunset, Louisiana, who was shot by a suspect on August 26.
On August 24, Louisiana state trooper Steven Vincent approached a vehicle stuck in a ditch, when the motorist shot him with a sawed-off shotgun. Passing motorists then arrested the man. Vincent passed away from his injuries the following day.
The incident that received the most attention was the "unprovoked execution-style killing" of Deputy Darren Goforth on August 28. Surveillance cameras at a Houston gas station recorded a suspect calmly approaching Goforth from behind, and firing at the deputy as he was pumping gas. Harris County Sheriff Ron Hickman blamed"rhetoric" from the Black Lives Matter movement for inspiring "calculated, cold-blooded assassination of police officers." The suspect, Shannon Miles, is African-American.
Slow to respond and second-guessing
Since the August 2014 events in Ferguson, localities in 24 US states have introduced some kind of police reform proposal. Police departments around the country are implementing reforms such as sensitivity training, non-lethal tactics and community outreach.
Not all officers are happy with the changes. In Dallas, Texas, where police response times are the slowest since 2007, the union blamed the management's second-guessing of officers for low morale.
"Response times are up, violent crime is up, and officers are fed up," Dallas Police Association president Ron Pinkston told local media on August 24. "The motivation is a little lacking. I think it's just the fear of doing the right thing and that they are going to get disciplined for doing that."
You can share this story on social media: