Pennsylvania police brutalize singing man - video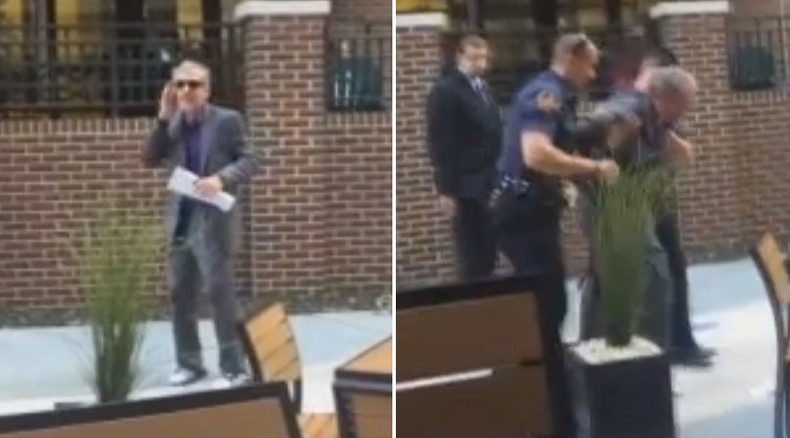 Police in Allentown, Pennsylvania were caught on video assaulting and arresting a man who was singing in a public place. The encounter came on the heels of a separate police-brutality incident in Allentown that surfaced last week.
In the video, Jim Ochse, described by The Morning Call as a 61-year-old self-employed athletic trainer, is seen singing a Beach Boys song in a public area of downtown Allentown near the Strata Luxury Flats apartment building, outside of Shula's, a pricey steakhouse. A police officer approaches Ochse. Their conversation escalates quickly, as Ochse seems to insist he has the right to sing.

When two suited security guards enter the scene, Ochse points to them and the officer, saying to each, "You get out of here," as he starts walking in the opposite direction. The officer stops him, eventually throwing him to the ground, Ochse screaming in pain and pleading for mercy.
Among his pleas, the man says he has permission from the Allentown Police Department to sing in the area.
Ochse did not appear to touch the police officer in the video. Louisa Ranis Soos, who witnessed the incident, was told by the guards that Ochse had touched the officer, according to a report.
A second video that appeared later also doesn't show him touching the officer.


Ochse is known for his cheerful singing in public, according to Copblock.org.

A video of the encounter was posted Sunday on Facebook. The video was eventually removed, but not before copies were made and posted, Copblock noted.
Allentown police would not comment on the incident, The Morning Call reported.

Ochse said he will seek legal action.

"These guys need to be prosecuted," Ochse told The Morning Call of the security guards and the officer. "They have to be held accountable for the actions."
Ochse has a record with the police, according to reports. He served five months in jail for criminal trespass and criminal mischief in 2013. He was charged with aggravated assault, among other offenses, for biting a police officer's finger at a police station.

A separate incident of police brutality in Allentown surfaced last week. In October, a man was roughed up by police for filming their assault of another man with a stun gun while they were arresting him. Police smashed the witnesses cell phone as well.
Eli Heckman, the filmer, was later charged with disorderly conduct and failing to disperse under official order, Copblock reported. The charges were eventually dismissed, but Heckman has since sued the Allentown Police Department for $150,000, claiming they used excessive force on him.

The man police were originally assaulting when Heckman approached was "uncooperative," according to police, and refused to offer his name as officers were in search for a robbery suspect. He was arrested for resisting arrest, simple assault, and disorderly conduct, according to Copblock.

The incidents follow an FBI investigation into Allentown City Hall for alleged improprieties among top city officials.
You can share this story on social media: