Police rattled by spike in violent crimes across US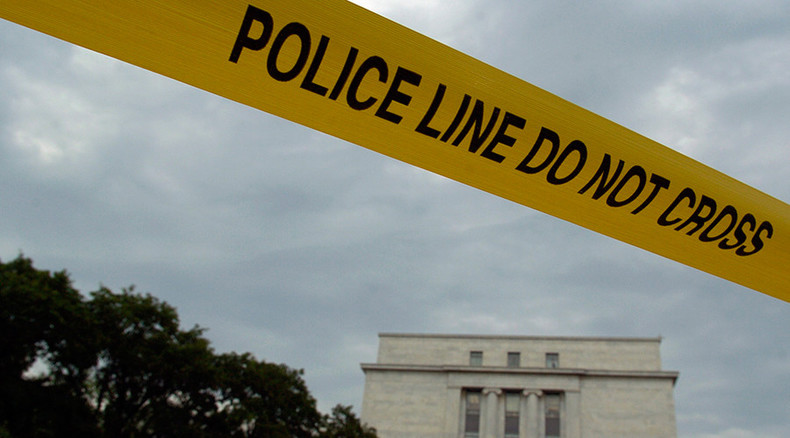 Homicides and other violent crimes are increasing in major cities across the country, leaving law enforcement officials scratching their heads as to the cause ‒ and how to address the rise in crime and its underlying problems.
Police forces around the country are struggling to deal with a recent surge in violence. Four of the nation's largest cities ‒ New York; Chicago, Illinois; Houston, Texas; and Philadelphia, Pennsylvania ‒ saw spikes in homicides through mid-July when compared to the same time period in 2014.
Homicides in 35 big cities are up 19 percent this year on average, and non-fatal shootings are up 62 percent, according to a police association survey. When it comes to year-to-date homicides, Washington, DC has seen a 23 percent increase, while Baltimore, Maryland has seen a 57.6 percent increase. Los Angeles, California has seen a 20.2 percent increase in violent crimes through the beginning of August, while New York City saw a 20 percent spike in its murder rate over the first two months of the year.
On August 3, the Major Cities Chiefs Association (MCCA) hosted a summit of police chiefs from DC, Baltimore, Chicago and St. Louis, Missouri, as well as criminal justice professors, attorneys and others to discuss the increase in shootings in their cities and to brainstorm possible solutions to the uptick in crime.
"We had this meeting as an urgent summit because we felt a sense of urgency because people are dying," DC Police Chief Cathy Lanier said at a news conference after the summit. "We have not seen what we're seeing right now in decades."
DC racked by synthetic drugs, homicides
As of Sunday, DC's homicide total had reached 93 ‒ just 12 shy of the city's homicides for all of 2014, according to police figures. It's also a 23 percent increase over the same time period ‒ January to mid-August ‒ in 2014, the Washington Post reported.
A study by the Urban Institute found that, even with the recent spike in violence, the District's crime levels remain at historic lows. It tracked homicides over the past 15 years, and found they have shifted away from rapidly developing and gentrifying neighborhoods.
"I think people feel like these crews and these neighborhood beefs never really left," DC Council Member Charles Allen told the Post. "They still exist, and this problem is certainly not unique to one neighborhood. A block from my house, we had guys hanging out car windows pumping bullets into a guy. It's something we're experiencing this summer."
Yet some of those areas, such as Petworth, which has seen a 34 percent increase in crimes with guns this year, and Columbia Heights, with a 9 percent increase, are not comforted by the statistics.
"We knew it was an area in transition," Adrian Washington, who runs the Neighborhood Development Co., located just north of Petworth, told the Post. "But over the last few months, we saw things getting worse and worse. More people drunk or high, hanging out all day, some looking like they were selling drugs."
The District's police are baffled by the spike, which includes a brazen homicide occurring just before 5:00 p.m. on Saturday. A 24-year-old former Capitol Hill intern was shot and killed a mere four blocks from where the Metropolitan Police Department had set up a special, around-the-clock post where three people were shot and injured last Tuesday. A woman was killed at a barbeque in the same location after a bullet was fired into a crowd on Memorial Day. The nation's capital is fighting an epidemic of synthetic marijuana use, and instituted harsh new penalties in July for stores caught selling the man-made drugs.
Baltimore after Freddie Gray
Baltimore Mayor Stephanie Rawlings-Blake fired Police Commissioner Anthony Batts in early July, saying he was too divisive and his presence too damaging in the wake of riots and protests over the death of 25-year-old Freddie Gray in police custody in April. As tension remained even after the six officers involved with Gray's arrest were themselves taken into custody and charged with varying counts, the city's homicide rate began spiraling out of control and other violent crimes started to spike as well.
Since the start of the year, there have been 208 murders in Baltimore, compared to 211 for all of 2014, according to the Baltimore Sun. Over Memorial Day weekend, 28 people were shot ‒ nine of whom died ‒ making May the city's most violent month since 1999. Robberies spiked in July, with 2,411 street, commercial and residential robberies and carjackings occurring in Baltimore between the start of January and the end of July, the Sun reported. With 400 more robberies and carjackings than in the comparable period last year, the city is seeing at least a five-year high in those crimes.
Police have "seen an increase of juveniles working in groups" to rob people on the street, Detective Jeremy Silbert, a police spokesman, told the Sun. "Barbershops and beauty salons have also been targeted over the past month."
Changing laws in LA
Los Angeles saw nearly 14,000 violent crimes between the start of the year and August 8, a 20.2 percent increase over the same time period in 2014, the Los Angeles Police Department reported. However, the city has seen a slight decrease in homicides over that same time period, from 158 in 2014 to 155 this year. Aggravated assaults saw the biggest jump ‒ 26.4 percent ‒ from last year to this year. In mid-July, Los Angeles County Sheriff Jim McDonnell blamed the rising crime rate on a recent change in California law making certain drug and property crimes misdemeanors instead of felonies.
"We had 10 years of crime reductions, we were at 50-year lows in many areas on crime statistics, and all of a sudden, right after November when [Proposition] 47 kicked in that changed and fairly dramatically, very quickly," McDonnell told AP. "It would be naive to say that 47 didn't play a major role in that."
Los Angeles Mayor Eric Garcetti and Police Chief Charlie Beck also pointed to the ballot measure, as well as gang violence and an escalation in homelessness, the Christian Science Monitor reported.
New York City and the rise of vigilantes
In New York City, the murder rate spiked 20 percent in the first two months of 2015. That spike was not helped by a so-called "work stoppage" in January in protest of Mayor Bill de Blasio over his sympathetic comments towards police brutality protesters. During a one-week period, the number of arrests across the city plunged to just over 2,000 – compared to over 5,000 during the same week in 2014 – with parking- and driving-related tickets down more than 90 percent, according to NYPD data.
However, by July 1, the rate for major crimes had actually fallen, with police officials saying that New York City was on pace for fewer than 100,000 reported major crimes in 2015 ‒ the first time that figure would be so low in at least two decades, WCBS reported. For the first six months of 2015, there were 46,775 reports of rapes, robberies, felony assaults, burglaries, grand larcenies and auto theft.
Despite the actual drop in violence, though, fears of the spike remain, reminding people so much of the high-crime decades of the 1970s and 1980s that a familiar sight from that time has reemerged: The Guardian Angels volunteer group has once again begun patrolling Central Park. Crime within the 842-acre expanse of green has risen 26 percent this year. The Guardian Angels focus on deterring crime, but will also make citizens' arrests, call police and defuse potential problems.
"We realize things are much better than they were" during the crime peak of the 1980s and early `90s, founder Curtis Sliwa told WNBC, but "we want it to stay that way."
The group began in 1979, and were welcomed by citizens who saw them as a tough-minded neighborhood watch group willing to pick up where police left off, but critics saw them as loose-cannon, publicity-seeking vigilantes, according to WNBC.
Other cities have seen the appearance of their own vigilante groups this year as well. In St. Louis, members of the Oath Keepers militia, formed of former and current law enforcement and military officers, arrived in the suburb of Ferguson on the one-year anniversary of a white police officer killing an unarmed black teen. The group ‒ wearing military harness, bullet-proof vests and armed with AR-15 assault rifles ‒ patrolled crowds of protesters gathered there for a "day of civil disobedience" in memory of 18-year-old Michael Brown. The appearance of the heavily-armed white men stirred unease on the part of the civil rights activists from the Black Lives Matter movement, which was born of the 2014 Ferguson protests.
In Chattanooga, Tennessee, the Military Protection Assistance Program was created in the wake of a terror attack at two military recruitment centers that claimed the lives of five service members. It called on armed citizens in open-carry states to protect military recruitment and reserve centers, as those locations ‒ and military bases ‒ do not allow service members to carry firearms of their own.
What's to blame?
St. Louis Police Chief Sam Dotson blamed the rising crime rates on what he termed "the Ferguson effect," meaning that his police officers, dealing with the fallout of Brown's death, had been drawing back from everyday enforcement due to fears they could be charged with crimes for doing their jobs. The result, he said at a November press conference, is that "the criminal element is feeling empowered."
Larry Kummer, the editor of the Fabius Maximus blog, had a much more dystopian reaction to explain the 2015 figures.
"Police killing unarmed people – sometimes for trivial reasons, sometimes for no reason – erodes the public's trust not just in the police but in the legitimacy of our society," he wrote in an August 3 post. "Why follow the laws if the police don't?"
But crime rates haven't risen in all major cities across the US. For instance, in Philadelphia, the year-to-date homicide rate through July 19 was down 1 percent over the same time period in 2014, according to the city's police department. Overall this year, through Monday, the Pennsylvania city has had 164 homicides, a 37 percent drop from the same time period in 2007.
You can share this story on social media: