'We need a change': Baltimore mayor fires police commissioner after riots, homicides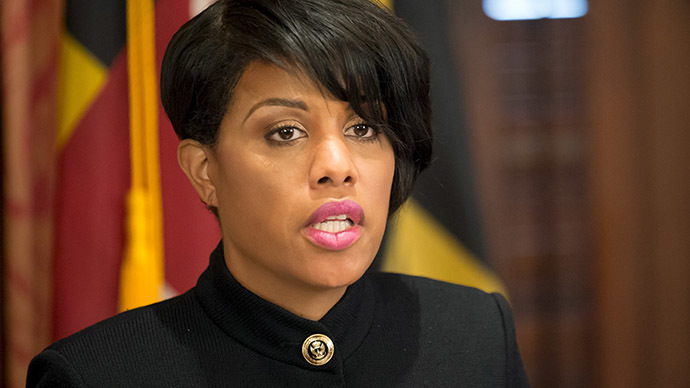 Baltimore's mayor has fired the police commissioner because of a recent crime spike. In the last two months, there have been 73 murders in the city. The firing coincides with a police union report critical of the department's role during the riots.
Mayor Stephanie Rawlings-Blake commended police commissioner Anthony W. Batts for his service, citing improvements in transparency and accountability at City Hall on Wednesday.
"Over the past three years, Commissioner Batts has served our city with distinction," she said, according to the Associated Press.
READ MORE: Ex-Baltimore cop pulls back dark curtain on corruption culture
But the mayor said his leadership had become a "distraction" that took away from her mission to make the city safer.
"Recent events have placed an intense focus on our police leadership, distracting many from what needs to be our main focus: the fight against crime. So we need a change," the mayor said.
The city's homicide rate has spiked following the riots two and half months ago, which occurred after the April death of African-American man Freddie Gray in police custody. The city recorded 42 homicides in May, its highest rate for that month in 25 years. An additional 31 homicides were recorded in the past month.
The Baltimore Sun reported that three people died in a quadruple shooting near the University of Maryland on Tuesday night.
Rawlings-Blake appointed Batts in 2012 after he had resigned as the police chief in Oakland, California. He was brought in to a police department that had been mired in scandal and accusations of brutality.
Batts was heavily criticized after the Baltimore riots, and six of his officers have been indicted in Gray's death.
READ MORE: Freddie Gray autopsy report shows single 'high-energy' injury
Batts' replacement is Kevin Davis, the deputy police commissioner, who will run the department on an interim basis.
Mayor Rawlings-Blake said the crime surge was the prime reason for her decision, but her action occurred just hours after the police union issued a report critical of the police department's response to the riots.
The Fraternal Order of Police Lodge 3 criticized the department's handling of the protests that popped up after Gray's death, which then devolved into rioting and arson. Its review said its members reported that they "lacked basic riot equipment, training and, as events unfolded, direction from leadership."
The report also complained that "the passive response to the civil unrest had allowed the disorder to grow into full-scale rioting," and that officers had followed direct orders from their commanders "not to intervene or engage the rioters."
You can share this story on social media: