Freddie Gray autopsy report shows single 'high-energy' injury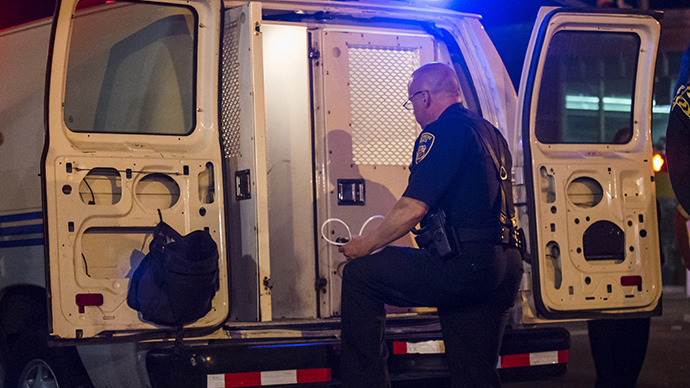 The Baltimore man who died in police custody in April suffered a single "high-energy injury" that broke his spine, most likely caused by the sudden slowing down of the police van, says the autopsy report obtained by the local press.
Gray had no previous injuries indicating a neck hold or caused by physical restraint by police officers who arrested him on April 12, says the report obtained by the Baltimore Sun on Tuesday. Assistant medical examiner Carol H. Allan concluded that Gray may have gotten to his feet inside the van, and was thrown into a wall during a sudden change in direction.
Autopsy: Freddie Gray's death fit medical/legal definition of accident; 'acts of omission' made it homicide. http://t.co/pltvBE6kBY

— The Baltimore Sun (@baltimoresun) June 23, 2015
Though his death fit the medical and legal definition of an accident, Allan ruled it a homicide because the arresting officers failed to follow safety procedures "through acts of omission." The officers shackled Gray's wrists and ankles and loaded him into the van on his belly, rather than belting him into a seat as Baltimore PD guidelines called for.
Because of his restraints, Gray was "at risk for an unsupported fall during acceleration or deceleration of the van," the medical examiner concluded in the report, finalized on April 30. State's Attorney Marilyn Mosby indicted six officers involved in Gray's arrest on May 1. Mosby later filed a motion to keep the results of the autopsy secret.
READ MORE: Baltimore PD officers plead not guilty in Freddie Gray's death, trial date set
According to the report, Gray tested positive for "opiates and cannabinoids" when he was admitted to the Maryland Shock Trauma Center. The medical examiner concluded the killing blow was to the lower left part of Gray's head. Given the account of his behavior by the officers and the other passenger in the van, the injury occurred between the second and the fourth stop made by the van, according to the autopsy.
The van, driven by Officer Caesar Goodson, made a total of five stops. At the second stop, Gray was shackled and placed on the floor of the van, facing the door. During the fourth stop, he was found facing the inside of the van, asking for help and complaining he could not breathe.
When the van stopped the fifth time, "Mr. Gray was found kneeling on the floor, facing the front of the van and slumped over to his right against the bench, and reportedly appeared lethargic with minimal responses to direct questions," the report reads.
Gray's death prompted weeks of peaceful protests, boiling over into a riot on April 27, the day of his funeral. Maryland declared a state of emergency because of the unrest, and almost 3,000 National Guard troops were deployed in Baltimore.