Baltimore riot: Violent clashes, tear gas, rubber bullets after Freddie Gray funeral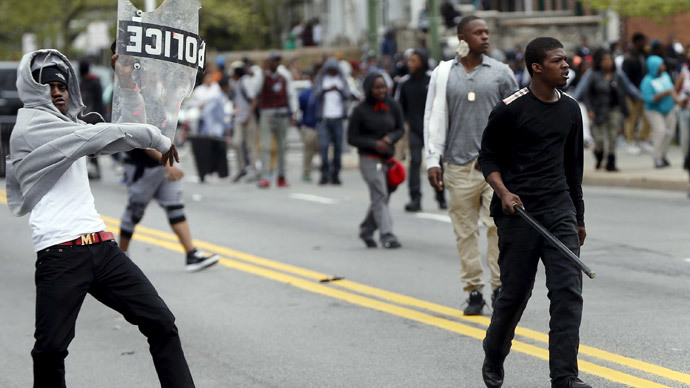 Maryland governor Larry Hogan has declared a state of emergency in Baltimore as standoff between large group of youth and police in riot gear engulfed much of the city. The National Guard has been activated to address the growing violence.
READ LIVE UPDATES ON PROTESTS IN BALTIMORE
All leaves have been cancelled for the police officers in the city. Mayor Stephanie Rawlings-Blake declared curfew starting 10 pm Tuesday.
Protesters and police converged on Mondawmin Mall in northwest Baltimore early Monday afternoon. People began throwing bottles, rocks and bricks, as demonstrations spread to other areas of the city. Several police officers have been injured by the projectiles, and protesters ‒ teens later joined by adult residents ‒ refused to listen to law enforcement and disperse.
The crowds are very aggressive and violent, the Baltimore Police Department said.
"Several people in the group are reported to be armed with sticks, bricks, and other weapons," Baltimore PD added. "We are hearing reports that members of this group are now setting small items on fire in the area."
Maryland National Guard put on alert. The state's Governor Larry Hogan said " looting and acts of violence in Baltimore will not be tolerated," and that there was a big difference between protesting and violence.
RT's Manuel Rapalo, who's at the scene, says police helicopters are circling around the area with protests. More squads are expected to arrive. Rapalo says there has been a smell of gas in the streets of the city throughout the day.
At least one news photographer was attacked in the scrum, Baltimore Sun reporter Erica L. Green tweeted. She herself was maced. Journalist Steve Dorsey of CBS said he was attacked and robbed "by a protester," protected by bystanders.
"Our officers are working as quickly and as orderly as they can to bring peace to the area," Baltimore PD Capt. Eric Kowalczyk told reporters.
"We will find the people that are responsible and we will put them in jail. Right now it is a group of lawless individuals," he continued. "They are criminals. They attacked our officers without provocation, with no regard to residents of the community."
At least seven officers have been injured, some with broken bones. At least one cop is unresponsive, Kowalczyk said.
RAW: #FreddieGray protesters swarm police, officers use pepper sprayPosted by RT America on Monday, 27 April 2015
Big group, throwing rocks.. Some landed near me.. Backed up pic.twitter.com/rXhliPtKOw

— Christian Schaffer (@chrisfromabc2) April 27, 2015
READ MORE: Gangs join forces to 'take out' cops, Baltimore PD alleges
Mondawmin Mall closed at 1 p.m., ahead of when protesters and police converged on the area. The Maryland Transit Administration said the Mondawmin Metro station is temporarily closed.
One of our officers has been injured at Mondawmin Mall. The group continues to throw bricks and other items at police officers.

— Baltimore Police (@BaltimorePolice) April 27, 2015
— Agitator In Chief (@BaltoSpectator) April 27, 2015
A helicopter circled above the mall is broadcasting the message: "Clear the area or you will be arrested," several witnesses tweeted.
Rocks and other debris flying at North Monroe and Gwynns Falls pic.twitter.com/Pb0r1fkQgI

— Colin Campbell (@cmcampbell6) April 27, 2015
"The group continues to throw bricks and other items at police officers," the police department tweeted.
The expected game of a local baseball team Orioles was postponed because of safety concerns.
Orioles' game in Baltimore postponed because of safety concerns amid Freddie Gray protests: http://t.co/hyJp0HkdL2pic.twitter.com/qW5wSpGAmN

— Salvatore (@salvatorecasto4) April 27, 2015
Some businesses and institutions in downtown Baltimore closed early Monday. Among them included the University of Maryland-Baltimore and T. Rowe Price's downtown offices, which closed at 2 p.m. local time "out of an abundance of caution," WBAL reported.
Police firing tear gas canisters as they advance down N. Monroe Street in Northwest #Baltimorepic.twitter.com/ctq8xe9Cja

— Colin Campbell (@cmcampbell6) April 27, 2015
State police, Baltimore City tactical unit and officers from Prince George's, Howard and Anne Arundel Counties have arrived on the scene.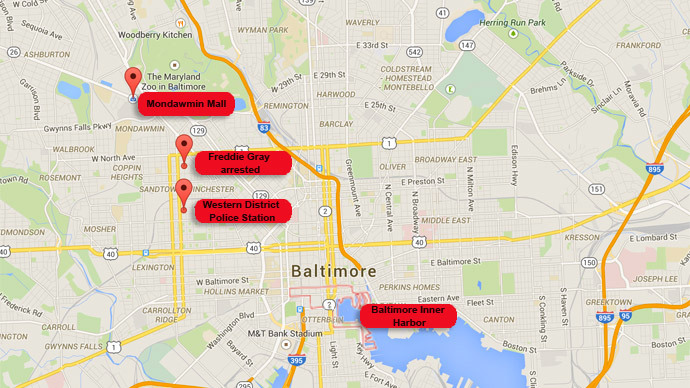 You can share this story on social media: