Gangs join forces to 'take out' cops, Baltimore PD alleges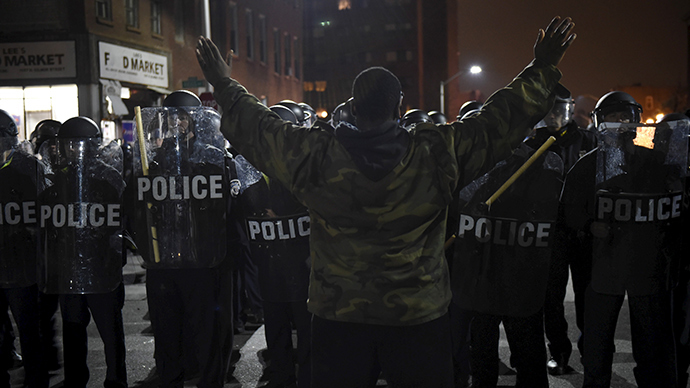 Baltimore police said it has credible information that street gangs have joined forces to attack police. The statement was issued minutes before the funeral service for Freddie Gray, who died in Baltimore police custody earlier this month.
According to the Baltimore Police Department, there is "credible information" that various prison and street gangs entered a partnership to "take-out (sic) law enforcement officers."
"Law enforcement agencies should take appropriate precautions to ensure the safety of their officers," the release said, adding a request to the media to distribute the warning to "the public and law enforcement nationwide."
Here's look at news release #baltimore pd released on threat pic.twitter.com/RI8knA1zW4

— JoyLepolaStewart (@jlepolastewart) April 27, 2015
The gangs named in the release are Black Guerrilla Family, Bloods and Crips. All three started out in the Los Angeles area, before spreading throughout the US. According to publicly available estimates, Crips may have up to 35,000 members and Bloods up to 20,000, with the BGF estimated at up to 300 members and 50,000 "associates."
From the Tragedy of Bro Freddie to the Triumph of Unity...Bloods, Crips and the FOI united!… https://t.co/5iy73zn4Ux

— Farajii Muhammad (@Farajii) April 25, 2015
Nation of Islam activists said on Saturday they had brokered a "truce" between the long-time rivals Bloods and Crips, and posted a photo on social media showing the members of two gangs wearing their colors and posing together.
Bloods and Crips unite for justice for Freddie Gray #JusticeOrElse(Photo: Farajii Muhammad)Posted by Million Man March • 20th Anniversary on Saturday, April 25, 2015
However, a number of local residents, activists and observers have greeted the police announcement with skepticism, posting on social media that the timing of its release was "too convenient." One Baltimore resident described the statement as "controlling the narrative".
I fully expect hard questions from @baltimoresun reporters on this. Even if true completely unnecessary and vile to release during funeral.

— Fabio Lomelino (@lomelinofh) April 27, 2015
BPD issuing PR during funeral is called "controlling the narrative" in my communications world. Funeral humanizing cause? Dehumanize! Gangs!

— Fabio Lomelino (@lomelinofh) April 27, 2015
Another called the release a "cynical attempt by the BPD to distract the media from Freddie Gray's funeral."
I'm sorry, without specifics you need to see that this is a cynical attempt by the BPD to distract the media from Freddie Gray's funeral.

— Paul Gardner (@paulmgardner) April 27, 2015
Several thousand people gathered at Gray's funeral, which began at 11:00am local time at Baltimore's New Shiloh Baptist Church.
Read More: Crowd gathers for Freddie Gray funeral following weekend of protests
On April 12, Gray was apprehended by members of the Baltimore Police Department after fleeing on foot from a cluster of officers. He suffered a severe injury to his spinal cord while in the custody of the BPD and died a week later. Six police officers remain suspended pending the results of an internal investigation into the affair.
Protests erupted across Baltimore after Gray's arrest and intensified following his death. Mayor Stephanie Rawlings-Blake and the family of Freddie Gray have urged protesters to remain peaceful, but police reportedly arrested dozens over the weekend when rallies turned violent.
Read More: Bad day in Baltimore: Reporters beaten, detained by police, RT contributor robbed