​Homicide spike, demoralized force poses tough challenge for new Baltimore police chief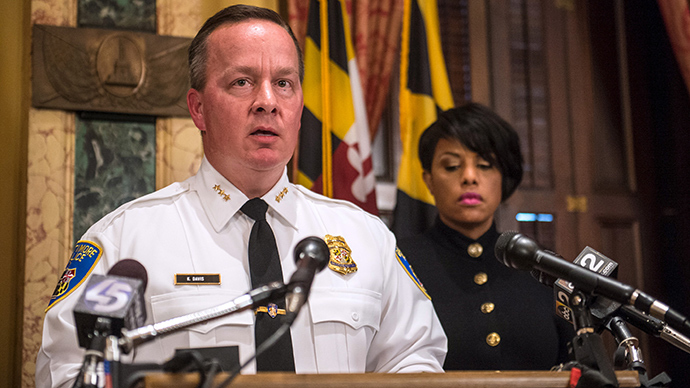 As the new Baltimore police chief takes over, he is beset with problems, including a demoralized and alienated police department undergoing an investigation by the Justice Department, and a city with a spiraling homicide rate.
Since the start of the year, there have been 156 murders in Baltimore.
"It's the toughest job in the United States at the moment," said Eugene O'Donnell, a professor at the John Jay College of Criminal Justice in New York and a former New York City police officer, according to the Associated Press.
"You need a chief who can, first and foremost, drive everyone toward common ground."
When former Baltimore Police Commissioner Anthony Batts was fired on Wednesday, Mayor Stephanie Rawlings-Blake said it was because he was too divisive and his presence too damaging. Batts' Deputy Kevin Davis is the interim replacement, but he has also indicated that he would like to remain in the position permanently, according to AP.
READ MORE: 'We need a change': Baltimore mayor fires police commissioner after riots, homicides
Davis is taking on a department where six of his officers are facing criminal charges over the death of Freddie Gray, a 25-year-old African-American who died of a spine injury sustained while in police custody. His death led to weeks of protests and a riot that caused an estimated $20 million in damages, as well as a worsening of relations between police and residents.
Davis' experience in law enforcement is in suburban Baltimore and Washington, according to Reuters, not Baltimore city. The city has a population of more than 600,000, of which about 63 percent are African-Americans. In the most crime-ridden neighborhoods, residents have a long history of mistrusting the police department.
Davis said this first order of business is appointing someone to focus on the riot response.
"We have a profession with authority that no other profession has," Davis said in an interview with AP.
"We can take a person's freedom away, and that's a huge and awesome responsibility. We can take a human life if justification exists to do so," he added. "With that responsibility and authority comes a huge amount of oversight and second-guessing at times. That's not new to law enforcement. Where we are in this moment in time is, we have to engage in a great deal of self-examination, and look at how we can do things better."
READMORE: Ex-Baltimore cop pulls back dark curtain on corruption culture
The firing of Batts came on the same day the police union, which represents 2,800 rank-and-file officers, released a critical report on the commissioner's response to the riot that led to looting, arson and vandalism. Roughly 200 officers were injured during the riots, and the report claims Batts discouraged officers from wearing protective gear and told them not to engage with rioters.
"The officers characterized the Baltimore Police Department's leadership during the riots as unprepared, politically motivated and uncaring and confusing," Gene Ryan, president of the police union, told the AP.
Davis' appointment is the latest in a rapid turnover of police commissioners. He will become the city's seventh in 15 years. His promotion also comes as the Justice Department, following the death of Gray, is investigating whether the Baltimore Police Department engaged in discriminatory practices, including unlawful stops and excessive force.
You can share this story on social media: