Shots fired during memorial march for Michael Brown in Ferguson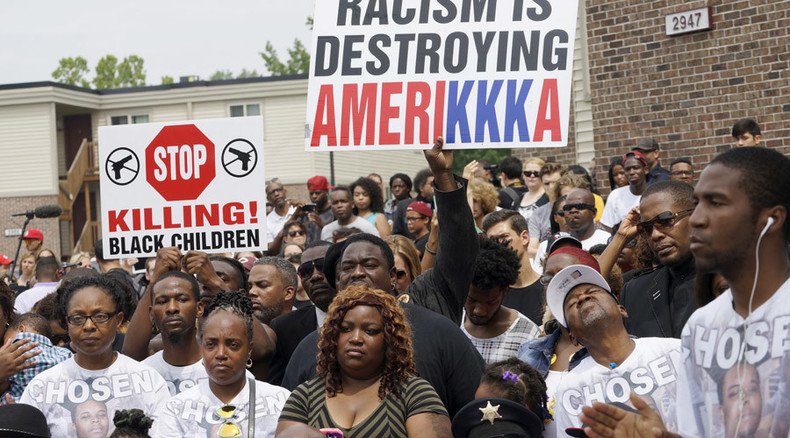 Several shots were fired during a silent march in Ferguson, Missouri, held to mark the one year anniversary of a black teenager's death at the hands of a policeman. Reports indicate that one person has been injured while stating that it is unlikely the drive-by shooting incident was somehow related to the memorial event.
About six shots were heard as hundreds of people marched the streets to commemorate Michael Brown who was killed by a white policeman a year ago. The 2014 incident caused a storm of outrage throughout the USA. The police however said that the shooting was unrelated to the march.
St. Louis County Police Chief Jon Belmar told reporters he was angry at what had happened.
"These are the exact kind of events we try to avoid. I think it's unfortunate. We are trying to keep everybody as safe as we can," Belmar said. No other incidents have overshadowed the day so far. The march was slowed down by police cars and ambulances dispatched after one person was reported injured.
The march started at the site where Michael Brown was shot dead by Ferguson officer Darren Wilson. Two white doves – the symbol of peace – were released following four and a half minutes of silence that represented the time (four and a half hours) for which Brown's body laid in the street. After that, people proceeded to a Ferguson church, where a service had been planned.
Brown's death not only triggered long-lasting riots and protests in the USA but also laid the foundations of a movement, called "Black Lives Matter", standing for the equal treatment of all people by police. Some people wore T-shirts with likeness of Brown or messages such as "Chosen 4 Change", "I am Michael Brown", "Please stop killing us" and others.
An improvised memorial of teddy bears, candles and flowers has been stationed on the road where Brown died. A metallic plaque has been installed on the sidewalk not far from the same spot.
On Saturday, the march was led by Brown's father who told the reporters: "I hurt every day. But I'm trying to make it uncomfortable to people that think this is OK to do this stuff".
Brown was described as a quiet and gentle person. He had just graduated from high school and planned to study to become a heating and air conditioning technician.
However, police said that Brown had stolen items from a nearby shop and showed resistance when caught by the policeman. Wilson claims that he had to shoot at Brown in fear of his safety.
A grand jury and the US Department of Justice refused to prosecute the officer, saying that Darren Wilson, who resigned in November, broke no laws when he shot Brown.
You can share this story on social media: