Texas cop fatally shoots 19-year-old black college football player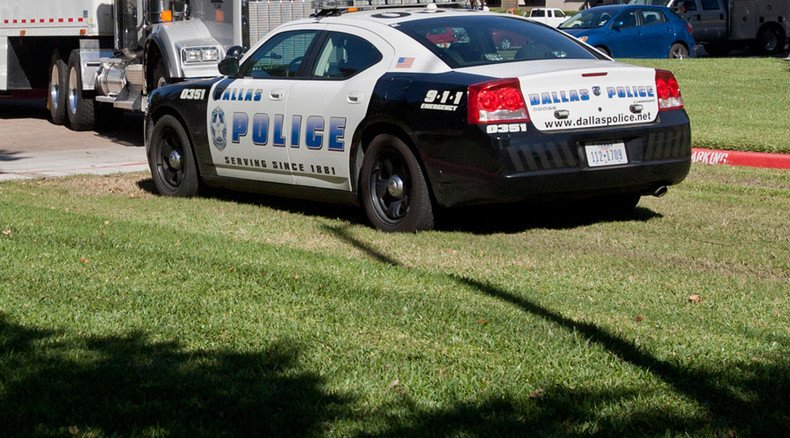 A Texas police officer has killed a 19-year-old college football player who allegedly hit the window of a car dealer's with his vehicle. The young man was reported to be unarmed.
According to the Arlington city police, 49-year-old Officer Brad Miller received a call about a burglary in progress, went to the scene and opened fire at a suspect, who was accused of driving a car through the front of the building.
"There was an altercation during which at least one officer discharged his weapon," the official statement said.
READ MORE: Protesters gather in Ferguson to remember 1st anniversary of Michael Brown killing (VIDEO)
In the shoot-out, 19-year-old Christian Taylor, a college football player at Angelo State University, was killed, the Dallas Morning News reported.
"The preservation of life and safety is our highest priority. The Arlington Police Department is saddened by this loss of life and will provide the community a clear and transparent investigation," police said in the statement.
Taylor was said to have fought with police officers when they confronted him in the showroom.
READ MORE: 'Has to be answer' for son's death – family of white SC teen killed by cop speaks out
Officer Miller only graduated from police academy in March, Reuters reported. In September, he joined the Arlington Police Department, having no previous police experience. He still was under the supervision of a police-training officer at the time of the incident.
After the shooting he was placed on administrative leave, which police spokesman Sergeant Paul Rodriguez said is "standard" for any officer involved in a "deadly force situation."
Police reported that Taylor, a 2014 graduate of Mansfield Summit, was unarmed. His coach, Travis Pride, told Dallas Morning News that he was a "fun-loving prankster, a jokester" and had "a lot of personality."
READ MORE: California cops arrested after 'beating & kicking' kids at boot camp
Taylor was a defensive back on the Angelo State University football team. A little more than a week before his death, Taylor tweeted "I don't wanna die too younggggg."
I don't wanna die too younggggg

— October 13th (@he_got_sneaks) July 31, 2015
The shooting comes a year after the death of 18-year-old Michael Brown Ferguson. The unarmed black teenager was killed by police officer Darren Wilson on August 9, 2014, when he was walking with a friend down the street. The incident led to riots and unrest across the country, with people chanting: "Hands up, don't shoot" to commemorate his death.
According to Washington Post data, US police have shot dead over 580 people, and law enforcers have killed 19 people across the country since the beginning of August.
You can share this story on social media: