California cops arrested after 'beating & kicking' kids at boot camp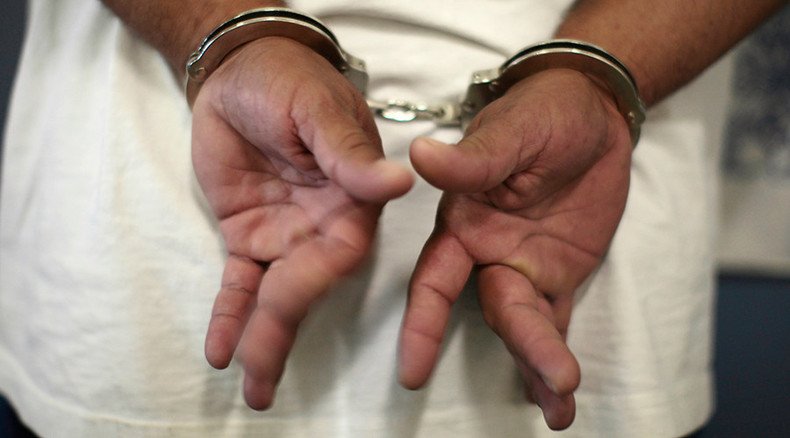 Four police officers in California have been arrested for alleged child cruelty. They stand accused of abusing 15 children who attended a youth camp in the state. Parents claim that their kids had been "kicked and "beaten," while one suffered a broken hand.
Huntington Park officers Marissa Larios, 36, and Patrick Nijland, 47, and South Gate officers Carlos Gomez-Marquez, 31, and Edgar Gomez, 35, were arrested on Tuesday and Wednesday, according to a statement from the San Luis Obispo Sheriff's Office.
Just under 40 youngsters attended the L.E.A.D boot camp in the town of San Luis Obispo. It took place in May at the National Guard base and was run by the police.
A sheriff spokesman, Tony Cipolla mentioned that each of the officers had posted bail set at $20,000. The four are alleged to have abused a total of 15 children, including nine boys and six girls, AP reported.
READ MORE:NYPD officers indicted for assault on teenager, knocking teeth out with gun
The injuries included "bruising to the face, bruised ribs, a lot of abrasions," he said. "I think generally roughed up would be a good description."
Worried parents had complained that their children had reported being slapped, kicked, stomped and beaten badly while attending the camp, which has been running for 17 years. One child even returned home with a broken hand.
"We really take no pleasure in arresting members of the law enforcement profession. But at the end of the day, we realize that no one is above the law," Cipolla added, as cited by AP. The case will now be submitted to the San Luis Obispo County district attorney's office, which will decide whether or not to press charges against the four police officers.
READ MORE: Kentucky deputy sheriff sued for handcuffing school children
This latest scandal comes just days after two children with learning difficulties were handcuffed in the state of Kentucky. The deputy sheriff at the center of the row is now facing legal action, according to the American Civil Liberties Union.
Despite one of the kids crying and shouting "Ow! That hurts," Kevin Sumner, locked adult-sized handcuffs around their biceps and forced their hands behind their backs.
The mother of one of the children involved in the incident said that her son was traumatized as a result.
"It's hard for him to sleep, he has anxiety, and he is scared of seeing the officer in the school. School should be a safe place for children. It should be a place they look forward to going to. Instead, this has turned into a continuing nightmare for my son," the mother said.
READ MORE:School kids are the latest victims of aggressive and unnecessary police overreaction
In an article for RT, Lionel, an Emmy award-winning legal analyst and news decoder slammed the behavior of US police officers, saying their behavior was unacceptable. He also could not understand why the school did not call their kids parents or a nurse, rather than opting to call the cops.
"In my years of practicing criminal law, I can safely say that I've never seen the case where even a mature adult did not find the arrest process harrowing and traumatizing. Just imagine what that process is like through the prism of a child who may suffer from the inability to process cause and effect consequence dynamics," he said.
You can share this story on social media: