'Has to be answer' for son's death – family of white SC teen killed by cop speaks out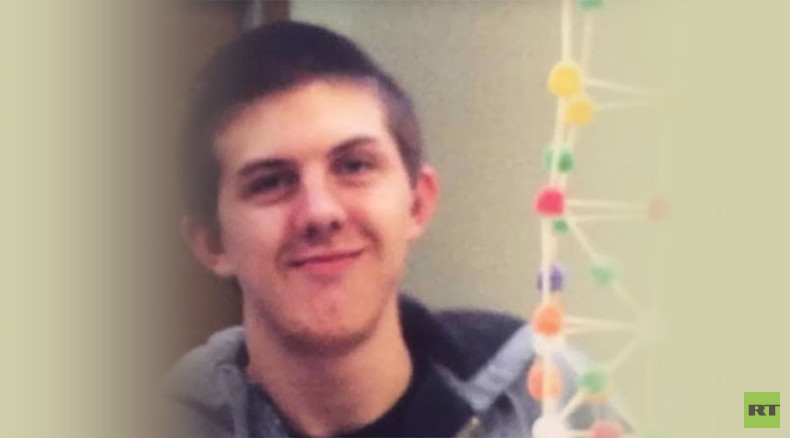 The family of a white South Carolina teen who was shot twice by an undercover cop is calling for a full investigation and justice. Police officials have not released the officer's name or shared any details with the family about their son's death.
"I think the officer should be charged. And something has to answer for my son being gone," Paul Hammond, the boy's father, told RT.
Zachary Hammond was shot and killed by an undercover police officer on July 26 after a drug sting went wrong in South Carolina. His family has been demanding answers as to why the officer used deadly force.
"He's only 19-years-old and the rest of our lives we are going to live with this," Paul Hammond said. "We are never going to be able to celebrate anything again with Zack. And every celebration that does come up is will be tarnished because Zack is not with us."
According to police in Seneca, South Carolina, an undercover officer shot Hammond "in self-defense" when the teen allegedly tried to run him over with a car during a drug arrest. An official autopsy confirmed Hammond was shot twice.
Hammond's family arranged for an independent autopsy, however, which showed the teen had been shot from above and behind, suggesting the police story was inaccurate.
The Hammonds and their attorney Eric Bland have begun their own investigation.
"Very little has been shared with the public. Nothing really has been shared with us. The identity of the [police] officer hasn't be shared. The circumstances around the supposed drug sting haven't been shared," Bland told RT.
READ MORE: Dallas cop suspended for telling 14-year old boy 'I'll break your f**king neck'
Bland said their investigation has found that two officers approached the car with guns drawn and, in a split second, two shots were fired. They hit Zachary in his rear left shoulder and rear left chest.
"The officer claimed that Zachary was driving at him and he had to shoot in order to protect himself," said Bland.
"But the ballistics and the physics of the trajectory of the bullet and where it entered Zachary's body … [show] he was behind Zachary," Bland added. "Under any reasonable interpretation of the events, [the officer] could not have feared that his life was in danger or that he was going to suffer physical injury such that he had the right to use deadly force."
Bland said there are very strict guidelines about discharging weapons into moving cars because if the driver is hit and incapacitated, then the car becomes "essentially a missile" that can cause further damage.
The family has not been told if there is any body camera or dash cam footage. If there is, it has not been released.
"So we've been left with trying to piece together what happened," said Bland. "We know who the officer is but we've been threatened that if we release the name of the officer, we will be criminally prosecuted."
"The police chief made the most repugnant statement I've heard in these types of situations. He referred to his officer 'as a victim of attempted murder,' and that is why he is not releasing his name."
READ MORE: Colorado cop slams handcuffed teen to hospital floor, knocks her teeth out (VIDEO)
Paul Hammond told RT said it has been "a most difficult past couple of weeks."
"Right now we don't sleep or eat much. There is a great loss in our life. I think only a parent who lost a child knows – I wish no one had to know that. We are still trying to find out how to move on. And we are still trying to find answers to what happened."
Bland, meanwhile, said the family will be pursuing civil rights litigation as Zack's civil rights were allegedly violated.
"It is not just that Zack loses the rest of his life," added Bland. "These parents lose a piece of their rest of their lives."
You can share this story on social media: