Colorado cop slams handcuffed teen to hospital floor, knocks her teeth out (VIDEO)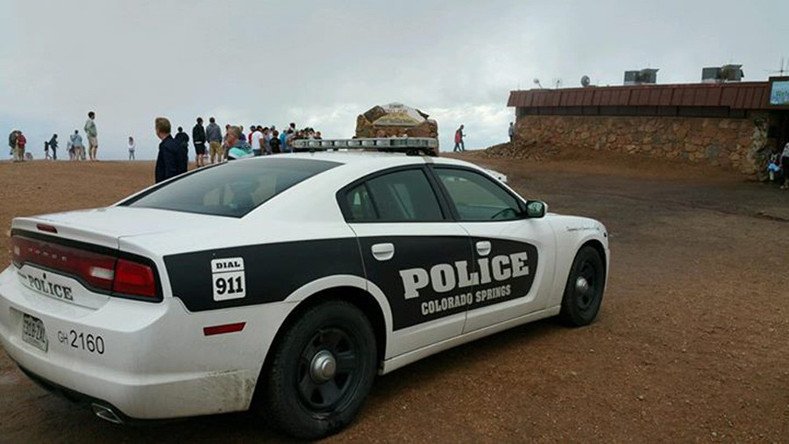 A newly-published video shows a Colorado Springs police officer going to extremes during a November 2013 arrest, slamming a handcuffed 18-year-old woman face-down into the ground, knocking out her teeth while she was in hospital.
The shocking video will be part of a lawsuit that is being prepared on behalf of Alexis Acker against the department. The footage was obtained by the Colorado Springs Independent daily.

"This is a very violent attack on someone who is in handcuffs, who is partially restrained and tiny, and there's just no need for it," Acker's criminal attorney Cindy Hyatt told the paper.
"You can't have something like this, whether it happens 100 times, 10 times or one time. It's unacceptable. It cannot be tolerated. As a patrol officer in particular, that's part of the job, dealing with that without planting someone's face in the floor," she added.

The video shows Colorado Springs officer Tyler Walker, 29 at the time, clearly shoving the handcuffed woman into a chair by hitting her in the stomach. He then grabs Acker out of her seat and slams her on to the hospital floor. Aside from having two teeth knocked out, she suffered "trauma to the face, head, teeth and jaw; migraine headaches, concussion, closed head injuries, memory and cognitive function problems, as well as post-traumatic stress disorder."

Meanwhile, conflicting police reports state that Walker either "escorted her to the floor" or that he "rolled her ... to the floor."
The incident took place after officers received calls of a disturbance involving a gun and were sent to check out Acker's apartment. They reportedly found no probable cause. But, according to police, the woman was "intoxicated and verbally uncooperative with police," while her boyfriend, Tyrin Tanks, was wanted on an outstanding warrant, according to Walker's report.
Acker allegedly became "physically combative" when officers arrested her 19-year-old boyfriend. She reportedly kicked at officers who pinned her down on a sofa and arrested her on multiple charges, including resisting arrest and assault on a police officer.
Walker drove Acker to Memorial Hospital for a "medical clearance" before taking her to jail "due to her intoxication level and combative nature," he wrote in his report.

At the hospital, Walker's report claims he told Acker to sit down. When she refused he "pushed her down into the chair," but Acker kicked him "in the groin area." He said he felt "immediate pain" and "forcefully threw Ms. Acker ... face down on the ground."

The officer added that, "After my adrenalin wore off," he began to feel pain in his left knee, an injury he allegedly suffered by throwing the woman down. Four days later, Detective Christine Somersalmi contacted Walker "to notify him of his victim's rights."

Acker has been meanwhile charged with five offenses, including two felony assaults on a police officer. She is seeking $500,000 in damages due to lingering health problems.
"She has injuries that will be permanent. Not only the dental, the jaw. She has a head injury. I think she is still with her doctors trying to get to the bottom of what that is," KKTV has quoted Hyatt as saying.
According to her criminal attorney, Acker has pleaded guilty to misdemeanor obstruction of a police officer and felony menacing, receiving a deferred sentence on the felony.

Another video was released earlier this week, after months of legal battles, showing officers fatally shooting an unarmed man in the Los Angeles suburbs after mistaking him and two others for robbery suspects. The City of Gardena paid out $4.7 million to settle a federal lawsuit with the family of the deceased and his brother, who was injured during confrontation with police. Local authorities had been struggling to keep the dramatic video private, however. The incident happened early morning of June 2, 2013, when Ricardo Diaz-Zeferino was stopped by police investigating a bicycle theft. The 34-year-old was trying to help his brother find his stolen bike when he was rounded up as a suspect instead. Witnesses said Zeferino attempted to tell officers that two other bicycle-riding friends they had stopped were the wrong men. The newly-released video showed "the cold-blooded shooting of clearly unarmed men," an attorney for some of the men, R. Samuel Paz, told the LA Times.
You can share this story on social media: