Anti-police 'rhetoric' out of control, 'cops' lives matter' also - Texas sheriff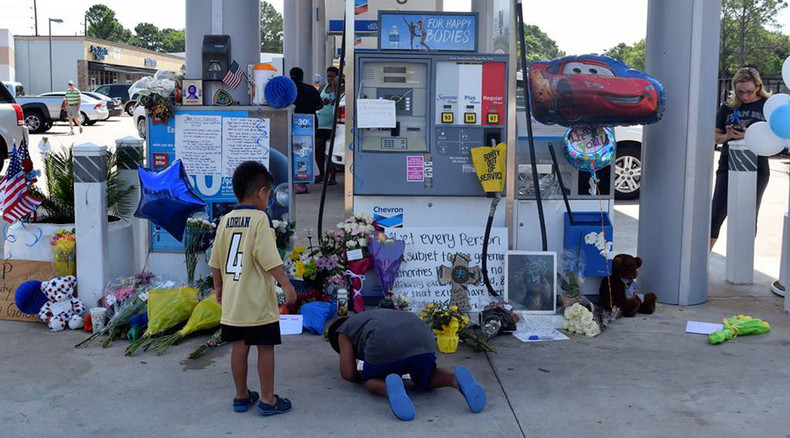 Commenting on the fatal shooting of a Harris County sheriff's deputy late Friday, Ron Hickman, sheriff of the county, said that supposed anti-cop motives in the Black Lives Matter movement was to blame for high tensions that have put police in danger.
""This rhetoric has gotten out of control," Hickman said during a Saturday press conference, and has increased "to the point where calculated, cold-blooded assassination of police officers happens."
READ MORE: 'Execution-style killing': Sheriff's deputy shot dead at Houston gas station, suspect arrested

Hickman was referring to the death of Harris County Deputy Darren Goforth, 47, who was gunned down Friday at a Houston gas station. The suspect, Shannon Miles, a black man, has been charged with capital murder in the slaying of Goforth, a white man, who "was only targeted because he was wearing a uniform," Hickman said.
In court on Monday, Harris County district attorney Devon Anderson said Miles shot Goforth 15 times with a .40-caliber Smith & Wesson.
"We've heard black lives matter, all lives matter," Hickman said Saturday, according to the Texas Tribune. "Well, cops' lives matter, too."

He added: "Why don't we just drop the qualifier and say 'lives matter.' Take that to the bank."
READ MORE: Police brutality protests forced 24 states to pass 40 new police reform measures

Anderson told reporters at the press conference that the "vast majority" of police officers are well-intentioned but are tainted by a "few bad apples." Recent cases of police shootings of unarmed black persons such as Michael Brown in Ferguson, Missouri, have given rise to the Black Lives Matter movement, which aims to beat back police brutality and profiling in black communities across the United States.
"That does not mean there should be open warfare declared on law enforcement," Anderson said of the high-profile killings, some of which were caught on camera, since Brown's murder in August 2014. "What happened last night is an assault on the fabric of society."

She added: "It is time for the silent majority in this country to support law enforcement."
READ MORE: 'Save a life, kill a cop' graffiti under investigation in Nashville

At a second press conference on Saturday, Hickman said anti-police sentiment puts law enforcement officers in danger. He added that he had "no details as to the motive" in the case.

Meanwhile, Black Lives Matter protesters in Minnesota were criticized over the weekend for a chant that referenced the killing of police. "Pigs in a blanket, fry em like bacon," protesters shouted at the Minnesota State Fair in St. Paul on Saturday, according to the Mankato Times.
Approximately 400 protesters marched to the State Fair to stage a rally outside the front gates of the fairground in what the organizers called Black Fair. The St. Paul Black Lives Matter contingent has made demands of the local and federal governments, including a US Department of Justice investigation of the killing by St. Paul police of Marcus Golden in January. In May, a grand jury chose not to indict two officers involved in the shooting.
So far in 2015, 652 people have been shot dead by on-duty police officers in the United States, according to a long-term tracking effort by The Washington Post. Of those, the Post reports that 24 were black and unarmed, and that a high percentage of the total shot were mentally ill or unstable. The federal government does not comprehensively track police shooting data, as the FBI only asks for voluntary reporting of such incidents.
READ MORE: ​Cops killing African-Americans 'practically a norm in US' – Chinese report
The Post is not keeping track of non-gun-related police killings, such as the choking death of Eric Garner in Staten Island, New York, last year. Along with Brown's shooting, Garner's death was a catalyst for the Black Lives Matter movement.

Grand juries in Ferguson, Missouri and New York City chose not to indict white officers for the killings of Brown and Garner. The grand jury decisions sparked nationwide protests to highlight, among other issues, racial profiling and police brutality not only in Missouri and New York, but across the country, including two fatal shootings in Ohio -- of John Crawford III and 12-year-old Tamir Rice -- that involved fake, air-powered guns.

In addition, two New York City police officers were gunned down in Brooklyn on Dec. 20, leading many police officers and their backers to blame the Black Lives Matter movement -- and the lukewarm support for their message shown by public officials like New York Mayor Bill de Blasio -- for a dangerous, "anti-police" environment despite the longstanding antagonistic relationship between police and citizens in New York and communities nationwide.
You can share this story on social media: