2 New York cops murdered in 'execution style' ambush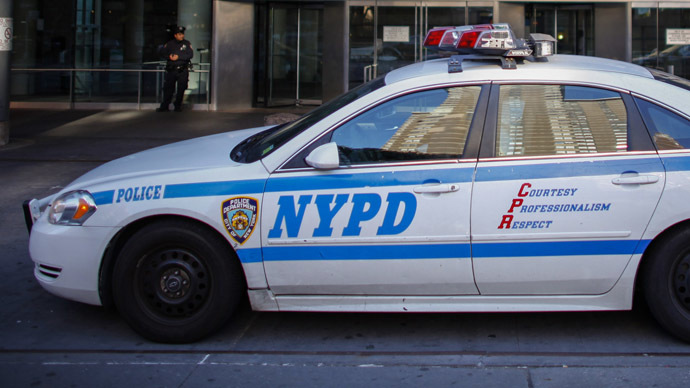 Two NYPD officers have been shot dead at point blank range by a suspect who ambushed their patrol car 'execution style' in Brooklyn. The perpetrator fled the scene and committed suicide, authorities confirmed.
Both officers have succumbed to gunshot wounds after being admitted to hospital in critical condition, authorities have confirmed.
"Both officers tragically succumbed to their injuries," Commissioner William Bratton of the New York City Police Department told the press. "Both officers paid the ultimate sacrifice today while protecting the communities they served."
The two uniformed officers killed on duty were identified as Wenjian Liu and Rafael Ramos. They were sitting in their marked police car on a Bedford–Stuyvesant, Brooklyn, street corner, allegedly working overtime as part of an anti-terrorism drill.
The attacker came up to their vehicle at around 3pm and shot multiple times through the front passenger window. Both officers suffered critical injuries to the head. Neither officer had a chance to protect themselves and most likely did not even see the attacker.
"With no warning, no provocation," Bratton said. "They were, quite simply, assassinated."
This is the car where #NYPD officers were shot dead in #Brooklynpic.twitter.com/u9qma8uiyc

— Alexey Yaroshevsky (@Yaro_RT) December 21, 2014
The shooter then ran away into the subway where he committed suicide with the same gun, according to officials. He was taken to the hospital but proclaimed dead upon arrival.
The motives of the shooter were still under investigation, but officials said cops were "targeted for their uniforms."
Photo's from the scene: #NYPD@NYPDnewspic.twitter.com/3nzh3IFabp

— Silver Surfer (@RobPulseNews) December 20, 2014
Police also confirmed the gunman, identified by police as Ismaaiyl Brinsley, 28, was a fugitive who recently shot and seriously wounded his girlfriend in Baltimore. Several hours before the shooting the suspected gunman posted a picture of an automatic pistol with a message on Instagram.
"I'm Putting Wings on Pigs Today," he wrote with hashtags #RIPErivGarner and #RIPMikeBrown. "They Take 1 Of Ours … Let's Take 2 of Theirs."
DETAILS: 2 #NYPD cops shot 'execution style' in #Brooklyn, shooter reportedly dead http://t.co/36I02NkB8Hpic.twitter.com/0KfLULomQM

— RT (@RT_com) December 20, 2014
"This May Be My Final Post," he concluded. The suspect's Instagram account was blocked following the shooting.
READ MORE: NY cops shooter was almost tracked after posting threats to avenge Brown and Garner
BREAKING: Here's the Past Arrest Record of The Brooklyn Cop Killer http://t.co/wsLiAp26mU#BlackLivesMatter#Islampic.twitter.com/Q3DzSQtti1

— Charles C. Johnson (@ChuckCJohnson) December 20, 2014
American President Barack Obama has condemned the murder of police officers in New York City.
"I unconditionally condemn today's murder of two police officers in New York City," Obama said in a statement. "Two brave men won't be going home to their loved ones tonight, and for that, there is no justification. The officers who serve and protect our communities risk their own safety for ours every single day - and they deserve our respect and gratitude every single day. Tonight, I ask people to reject violence and words that harm, and turn to words that heal - prayer, patient dialogue, and sympathy for the friends and family of the fallen."
Two Police Officers have been shot in the 79 pct. please pray for them

— NYPD 121st Precinct (@NYPD121Pct) December 20, 2014
The incident occurred as New York officers and police nationwide are being widely criticized for their brutal tactics against suspects, especially African Americans. Over the past weeks tens of thousands of Americans across the country joined in massive marches against the killing of unarmed black men by police.
READ MORE: #ICantBreathe: Thousands march against police brutality across US (PHOTOS, VIDEO)
The protesters spoke out against grand jury decisions not to indict the white officers responsible for the deaths of Michael Brown and Eric Garner. They staged rallies and 'die-ins' under the banners 'Black Lives Matter' and 'Justice for All.'
Witnesses say cops were shot in their car @ABC7NYpic.twitter.com/FzkePufUkL

— Renee Stoll (@ReneeStollABC7) December 20, 2014
PHOTOS: From the scene of the shooting of 2 police officers in Brooklyn. http://t.co/pNRPcCixNopic.twitter.com/n33E51o3kV

— Eyewitness News (@ABC7NY) December 20, 2014
You can share this story on social media: