No retrial for N. Carolina cop who fatally shot unarmed black man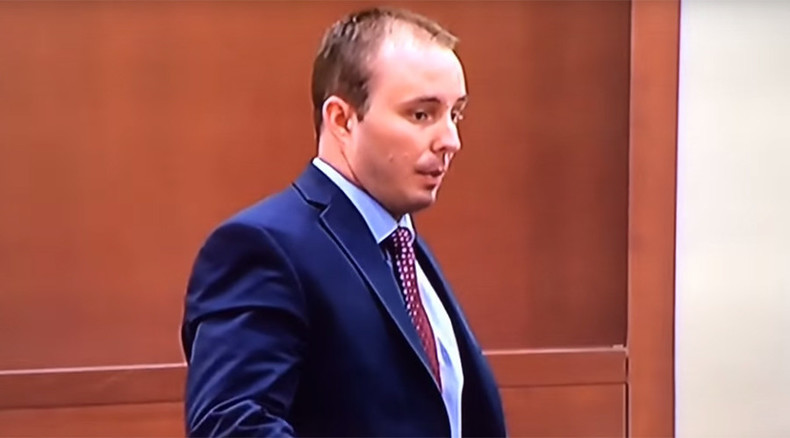 One week after a mistrial was declared in the case of a North Carolina officer who killed an unarmed black man during a controversial shooting, prosecutors announced that they will not seek a retrial.
The case revolved around the killing of Jonathan Ferrell, a 24-year-old college student who was shot 10 times by Charlotte-Mecklenburg Police Officer Randall Kerrick during a confrontation in September 2013. Kerrick was charged with involuntary manslaughter, but last week a jury failed to reach a unanimous decision regarding his fate.
READ MORE: Mistrial declared in case of N. Carolina cop who killed unarmed black man
In a letter from the State Attorney General's Office, it was revealed that prosecutors have decided that they are not looking to retry Kerrick.
"While our prosecutors tried to seek a conviction, it appears a majority of the jurors did not believe the criminal conviction was the appropriate verdict," wrote Robert Montgomery, senior deputy attorney general, in the letter to the Mecklenburg County district attorney, according to the Charlotte Observer. ".…Meeting the standard of proof beyond a reasonable doubt could not be achieved."
Montgomery went on to say that the decision had been influenced by comments from the jury, who voted 8-4 in favor of acquittal three times before the judge declared a mistrial. The majority of the jurors were not convinced that Kerrick had used excessive force.
"In consideration of the jurors' comments, the evidence available to the state, and our background in criminal trials, it is our prosecutors' unanimous belief a retrial will not yield a different result," he wrote, according to the Washington Post.
Soon after the mistrial was declared, Ferrell's family stated it wanted to see a new trial. Upon hearing the news that this was not to be, Ferrell's mother, Georgia, expressed frustration over the decision.
"They didn't try hard enough. It was just another black life. They don't care, it doesn't matter," she told the Observer. "I am going to continue to fight. I am going to work on the foundation, continue work for justice. It's not the end."
The 2013 incident began when Ferrell crashed his vehicle and went to a nearby house looking for help. The individual at the house thought Ferrell was trying to break in and called police to the scene. When law enforcement arrived, Ferrell allegedly ran towards them. Police said they tried to use Tasers to take Ferrell down, but when that failed to stop him, Kerrick fired his gun.
Police dashcam footage showed Ferrell running in the direction of Kerrick, though the college student was later found to be unarmed. Kerrick said during testimony that Ferrell tried to go for his gun after the two of them ended up in a ditch. A total of 12 shots were fired, 10 of which struck Ferrell.
At a press conference Friday, North Carolina Attorney General Roy Cooper said efforts will be redoubled to ensure proper training regarding the use of deadly force.
"Officers must be held accountable when they do not follow their training," Cooper said, according to the Observer. "Lethal force should be the last option, and training needs to reinforce that."
Despite being unable to secure a conviction, Cooper added that the decision to charge Kerrick was the right one.
"The loss of Jonathan Ferrell's life is a tragedy – it should not have happened," Cooper said, as quoted by CNN. "Our prosecutors have talked with Jonathan's mother about this decision. It was the right thing to bring this case before a jury and seek a conviction, but now we need to listen to what the jury said."
A civil lawsuit between Ferrell's family and the City of Charlotte was settled for $2.25 million last year, before this case came to a close
In general, it is very rare to see officers who have fatally shot civilians charged with a crime. Only 54 officers in the past 10 years have been charged, according to an analysis by the Washington Post. The majority of them were never convicted.
In North Carolina, news of the mistrial sparked a night of protests in Charlotte, with people blocking traffic in the streets and staging "die-ins" in the middle of intersections. Activists also plan to petition the Attorney General's Office and ask it to reconsider a retrial.
"We're not giving up," said Corine Mack, president of the Charlotte NAACP branch, to the Observer. "There's an African American male who is deceased at the hands of a former white CMPD officer. He was shot 10 times. If that's not excessive, I don't know what is."
You can share this story on social media: