Mistrial declared in case of N. Carolina cop who killed unarmed black man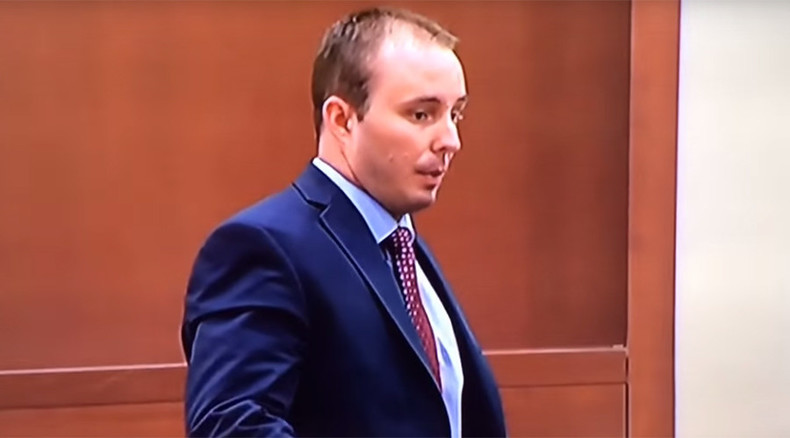 Following four days of inconclusive deliberations, a North Carolina judge has declared a mistrial in the case of an officer-involved shooting an unarmed African-American man. Afterwards, protesters took to the streets to voice their displeasure.
The jury needed to reach a unanimous decision to convict Charlotte-Mecklenburg Police Officer Randall Kerrick of voluntary manslaughter when he shot and killed 24-year-old Jonathan Ferrell, but the three most recent votes resulted in 8-4 decisions. While it was not officially revealed which way the jurors were leaning, the Charlotte Observer reported that the majority favored acquittal.
"The case will remain open per further proceedings," Judge Richard Ervin said to end the trial. Jurors had previously said they would not be able to reach a unanimous decision after Ervin had asked them to go back and try to make further progress.
Now, the question is whether prosecutors will pursue a retrial. Ferrell's family has already stated it would like to see Kerrick tried again, but prosecutors said only that they would review the court transcripts before making a decision.
After news of the mistrial spread, protesters took to the streets in order show support for Ferrell's family and express their desire to see Kerrick convicted. A couple of dozen demonstrators blocked traffic at one intersection and staged a "die-in" at another, spreading themselves across the street.
As they marched, they chanted "retrial" and phrases such as "No justice, no peace."
The case itself revolved primarily around whether or not Kerrick, who is white, used excessive force when he fired 12 shots at Ferrell, hitting him with 10. The incident occurred back in September 2013, when Ferrell crashed his vehicle and made his way towards another house looking for help.
The individual at the house, fearing that Ferrell was trying to break in, called law enforcement and several officers arrived at the scene, including Kerrick. Ferrell allegedly ran towards the officers, who police said attempted to use Tasers to bring Ferrell down. When that did not work, Kerrick fired his weapon.
Footage from a police dashcam also showed Ferrell running in the same direction as Kerrick, NBC News reported.
Ferrell was later found to have been unarmed.
According to Kerrick's testimony, he told Ferrell to "get on the ground" three times. He also said he ended up falling into a ditch with Ferrell, who allegedly tried to reach for his gun. A training expert also testified that Kerrick's behavior aligned with police training regiments.
The Ferrells' family attorney, Chris Chestnut, said Kerrick's testimony went against the account he gave when demonstrating what happened on video for a police investigation. He also criticized the defense for portraying Ferrell as a "thug."
"The family maintains that this was murder," he said, according to the Observer. "There was no justification for Randall Kerrick to fire 10 shots into Jonathan Ferrell."
"Regardless of what may happen now with respect to the pending charges against Officer Kerrick," Clodfelter said, "we must continue to ask ourselves what we can do, what we must do to lessen our fear of each other, our misunderstanding of each other – fear and misunderstanding that can too often escalate when we find ourselves in tense or unfamiliar situations."