​Cops killing African-Americans 'practically a norm in US' – Chinese report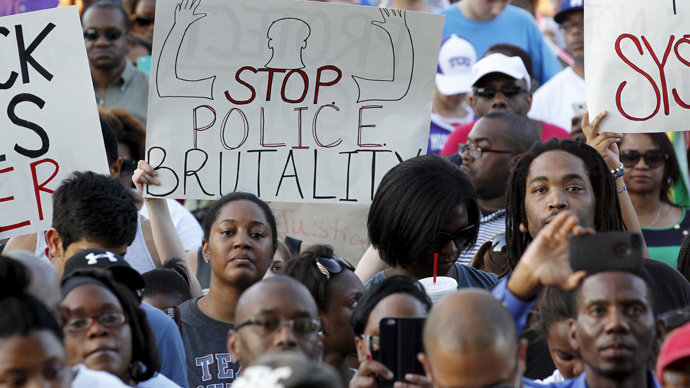 China has published a scathing report on the state of human rights in the US, focusing on the killings of black people by US law enforcement officers. The US government has been blasting China's human rights record for decades.
The new report published on Friday by China's State Council Information Office, criticized the US for racial discrimination, citing high-profile killings of African-Americans by police officers.
"In 2014, multiple cases of arbitrary police killing of African-Americans have sparked huge waves of protests, casting doubts on the racial 'equality' in the US and giving rise to racial hatred factors," the document said, as cited by Xinhua.
The report cited the killing of black teenager Michael Brown in Ferguson, Missouri, and other cases that sparked massive protests in the US. The Ferguson case exposed institutionalized racial discrimination in US law enforcement and judiciary, it said.
All 50 states fail to meet int'l standards on lethal force by police – Amnesty http://t.co/4FDx0wqSNtpic.twitter.com/2SnKScUjPn

— RT (@RT_com) June 18, 2015
"Police killings of African-Americans during law enforcement have practically become 'normal' in the US," the report alleged.
The Chinese report also describe America's issues with domestic violence, wage discrimination and income disparity, poverty, homelessness, the influence that corporate donors have on elections, mass electronic surveillance by the NSA, the use of torture by the CIA and other violations related to US foreign policy. The document is based on US government statistic, UN figures and media publications.
Beijing began publishing such reports several years ago in response to annual reports of the US State Department focusing on human rights issues in other countries, including China. The US criticizes China for violations of political rights, suppression of religious freedoms and other abuses.
You can share this story on social media: