Cleveland cops shot boy holding air gun 2 seconds after arriving at scene (VIDEO)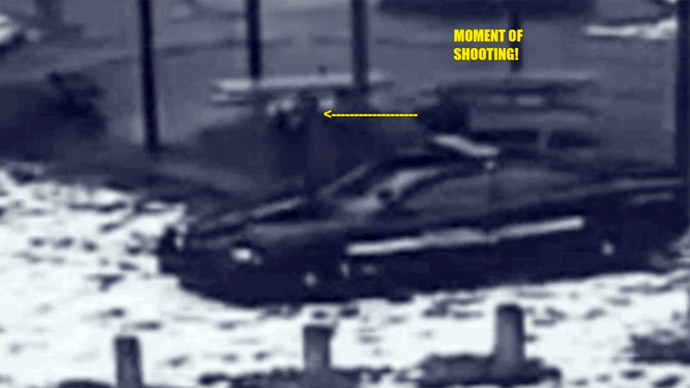 New video released from a police shooting in Cleveland, Ohio, shows a patrol car arriving on the scene and officers barely hesitating before fatally shooting in the stomach a young boy playing with an air gun.
The incident was prompted by a 911 call to the Cleveland Police Department claiming a boy was carrying a firearm and pointing it at people in the street. Police in the video are seen driving across the grass to a pavilion and hesitating briefly. As the boy approaches and seems to be pulling something from his waistband, he is shot dead.
READ MORE:#TangoDown: Anonymous close Cleveland City govt website over 12yo shooting death
The 12-year-old boy, Tamir Rice, died from a gunshot wound on Sunday. Police said they told Rice three times to raise his hands before shooting him twice. Yet despite believing Rice was in possession of a firearm, police later determined it was an airsoft gun – which shoots small plastic pellets – that did not have an orange safety indicator at the end of the barrel.
The video, meanwhile, was released at the request of the boy's family. Police also released audio of a 911 call, which reported a boy waving a gun. However, the caller did not know if it was real, and a dispatcher directed officers to the scene.
"This is not an effort to exonerate. It's not an effort to show the public that anybody did anything wrong," Deputy Chief Edward Tomba told reporters. "This is an obvious tragic event where a young member of our community lost their life. We've got two officers that were out there protecting the public that just had to, you know, do something that nobody wants to do."
READ MORE:'Totally innocent' unarmed 28yo 'accidentally' shot dead by NYPD police
Tomba would not say what comments Rice made to police or what officers said in their statements, AP reported. The responding officers were Timothy Loehman, 26, who joined the force this year, and Frank Garmback, 46, who has been on the force since 2008. Both officers are on paid administrative leave.
The shooting has led to an investigation of the officers' use of force and protests referencing this incident as well as other police-involved shootings.
READ MORE:Utah police now responsible for more homicides than street gangs
Tomba said police are monitoring social media for any indications of other potential witnesses and are pleading for people to come forward if they have information related to the case, even if it is just a small tidbit.
You can share this story on social media: