Family of John Crawford files wrongful death suit against police, Walmart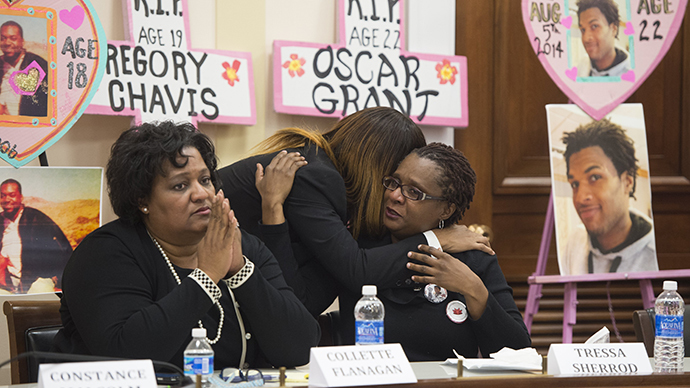 The family of John Crawford filed a federal lawsuit claiming Ohio police officers and Walmart were negligent in his death. A grand jury failed to indict the officers involved, but video footage appeared to contradict the police's version of events.
In the suit, the family's lawyer argues the Beavercreek Walmart was at fault for allowing the Crosman MK-177, which resembles an AR-15 rifle, to be left unlocked on a shelf for two days. That mistake led John Crawford III, 22 years old, to pick up the gun on August 5 and walk around the store freely — an act that led to the tragic killing of the father of two young children when a shopper made a 9/11 call to which police responded.
READ MORE:Ohio open-carry supporters bring guns to Walmart police shooting protest
Wal-Mart"had every reason to know that someone might mistake a BB gun for a real gun,"lawyers said Tuesday at a news conference announcing the suit, which was filed in a Dayton, Ohio court. "That gun was not secured like other weapons. … This gun was left unpackaged on a shelf, and in our understanding, it was left there for two days."
The family is asking for at least $75,000 in restitution. Wal-Mart, the City of Beavercreek and the police department did not respond immediately to reporters' calls for comment.
#JohnCrawford beyond words. Walmart sells toy gun. man is holding it. cops shoot & kill him, bully his girlfriend. grand jury passes.

— Raffi Cavoukian (@Raffi_RC) December 17, 2014
The Crawford family said they were "disgusted" with the grand jury decision in September, which did not indict the two officers involved in the shooting. Instead, the grand jury said the officers "were justified in their actions." Hours after the jury's decision, a surveillance video surfaced that appeared to contradict the officer's version of events.
READ MORE:Ohio cops killed Walmart air gun-wielding man moments after confrontation, new video shows
Police said in their report that Crawford ignored numerous orders to drop the rifle before he was shot. However, the video, obtained by the Xenia Daily Gazette, shows Crawford being fired upon mere seconds after police encounter him.
The Justice Department said the same day of the jury's decision that it would "conduct an independent review of the facts and circumstances" around Crawford's death to see if there were any civil rights violations. The review will be conducted by the department's civil rights division, the US attorney's office and the FBI.
"This is just the beginning as far as I'm concerned," said the victim's father, John Crawford Jr., at the news conference Tuesday, according to NBC affiliate WDTN. "I'm still pursuing justice, because to me … you have to be held accountable."
READ MORE:Grand juries rarely indict police officers who shoot citizens
The death of Crawford, who was black, at the hands of white officers has been among several cases this year of what many have called unwarranted police brutality. Grand juries have failed to indict offices in at least three cases – Eric Garner in New York, Michael Brown in Ferguson, Missouri, and John Crawford, III.
Some better pictures of @hawk representing for the families of Tamir Rice & John Crawford. pic.twitter.com/JRUTiIS915

— Shaun King (@ShaunKing) December 15, 2014