Ohio open-carry supporters bring guns to Walmart police shooting protest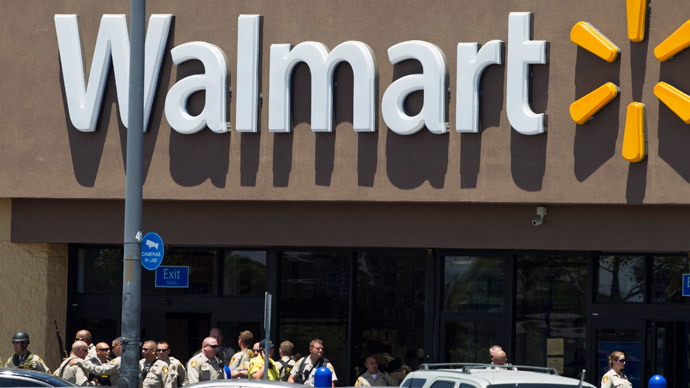 Exercising the state's open-carry laws on firearms, Ohio residents brought their guns to a Walmart store to protest the officer-involved fatal shooting of African-American shopper John Crawford.
About 40 people rallied on Saturday in front of the Beavercreek Walmart to demonstrate against the death of Crawford, 22, who was shot to death by police inside the store on August 5.

Members of the Ohio Open Carry group carried signs which read, "I am John Crawford" and "Serve and Protect, Not Serve and Kill." They came to show solidarity with the Crawford family, and to protest the policies of the police department.
MORE:Ohio cops killed Walmart air gun-wielding man moments after confrontation, new video shows
Some of the demonstrators were openly carrying firearms, including rifles, but were told by organizers not to bring ammunition to the rally. A few of the protesters also walked into Walmart armed, according to local NBC affiliate WDTN.

"We came here armed. We are proponents of open-carry. This case is clearly a case related to open carry. Maybe John Crawford wasn't carrying a real firearm but he was carrying what seemed to be a real firearm, and the over-reaction of the police in this instance is completely outrageous," Virgil Vadura told WDTN.
Questions are also being raised by Root.com's Albert Butler, who wrote that Ohio's own open-carry law should have protected Crawford.

"Ohio is an 'open-carry' state. So even if Crawford were carrying a real, fully loaded rifle, why would that raise any alarms? How could that possibly be a reason to kill him?" asked Butler.

"The difference is simple, and it's the difference in almost every case of police violence perpetrated on innocent citizens. He was black," Butler added. "Many African-Americans and Latinos alike see these open-carry folks and think, 'Hey, if white people are walking around with guns like that, maybe I need to...' I know I have. But as soon as we think it, we scoff, laugh or smirk to ourselves because we know what the outcome would be if we expected the same treatment."

Meanwhile, the Justice Department is investigating whether Crawford's civil rights were violated by police.

At the time, Green County police responded to a 911 call from another shopper reporting that Crawford was waving a firearm at customers. Police claim Crawford refused to put down his weapon – a toy replica of a rifle – when they approached him. They then shot the 22-year-old twice.
READ MORE:Louisiana restaurant becomes a hit after offering gun owners a discount
On September 24, an Ohio grand jury declined to indict the two police officers responsible, ruling they had responded appropriately. Shortly after the announcement, surveillance video of the incident was released which seemed to contradict police accounts. Police said in their report that Crawford ignored their numerous orders to drop the rifle before he was shot. However, the video – obtained by the Xenia Daily Gazette – shows Crawford being fired upon seconds after police encounter him.
The video shows Crawford walking to the sporting goods section, apparently talking on his phone, and picking up what looks like an assault rifle. In fact, it was an air rifle that had been left unboxed on a shelf. He then continues walking around the store – sometimes carrying the gun over his shoulder, sometimes pointing it at the ground – before police arrive and shoot him dead.
The Ohio Open Carry group is part of a greater, nationwide movement that supports the act of publicly carrying a firearm in plain sight. A well-organized network of gun owners in 43 states, the movement has seen an increase in support in recent years, as it presents opposition to anti-gun groups and their own efforts aimed at introducing more gun restrictions. More and more of America's 84 million gun owners say they are tired of compromising on their right to bear arms, which is protected under the Second Amendment of the US Constitution.