NRA publically apologizes for criticizing Texas 'open carry' movement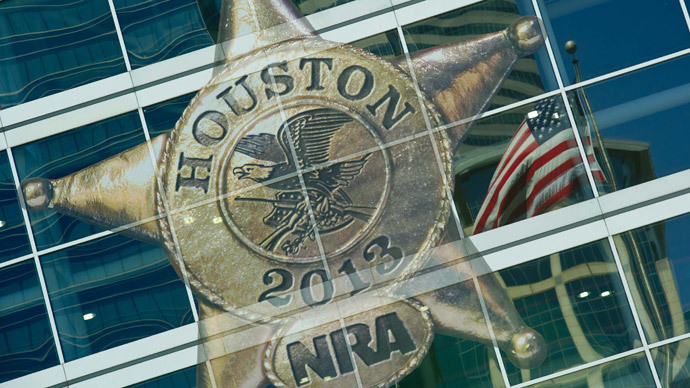 About one week after the National Rifle Association called the "open carry" gun movement in Texas "downright scary," the powerful gun organization has backtracked and issued an apology.
Speaking on one of the group's radio programs, Chris Cox of the NRA's Institute for Legislative Action said his organization "unequivocally" supports open carry – the right of an individual to openly carry a firearm into public spaces – dismissing a statement to the contrary as the opinion of a particular staff member.
"It's a distraction," Cox said, according to Talking Points Memo. "There was some confusion, we apologize, again, for any confusion that that post caused."
"It shouldn't have happened," he added. "I've had a discussion with the staffer who wrote that piece, and expressed his personal opinion. Our job is not to criticize the lawful behavior of fellow gun owners."
The controversial and surprising NRA statement appeared after pro-gun activists in Texas began protesting the policies of establishments – restaurants and other shops – that asked customers to stop bringing their firearms inside. Demonstrators appeared at coffee shops and fast food restaurants brandishing not only handguns, but also long guns and assault rifles.
Cox said the NRA supports Texans in their desire to eliminate open carry restrictions, suggesting the only difference is in terms of tactics.
"Some people believe that the best way to effectuate that sort of policy change is in protest," Cox said. "And what they did in Texas is, some people decided to protest the absurdity of the ban on … open carry of handguns by carrying their long guns openly, and legally. Now, the truth is, an alert went out that referred to this type of behavior as weird, or somehow not normal. And that was a mistake."
The remarks represent a notable turn-around from a week ago, when the group panned activists for showing a "lack of consideration and manners."
"Let's not mince words," read the NRA's original statement. "Not only is it rare, it's downright weird and certainly not a practical way to go normally about your business while being prepared to defend yourself. To those who are not acquainted with the dubious practice of using public displays of firearms as a means to draw attention to oneself or one's cause, it can be downright scary."
As noted by the Huffington Post, gun rights activists, including Open Carry Texas, immediately fired back at the NRA and accused the organization of hypocrisy.
"If they do not retract their disgusting and disrespectful comments," wrote Open Carry Texas, the group "will have no choice but to withdraw its full support of the NRA and establish relationships with other gun rights organizations that fight for ALL gun rights, instead of just paying them lip service the way the NRA appears to be doing."