Arlington PD fires officer who killed Christian Taylor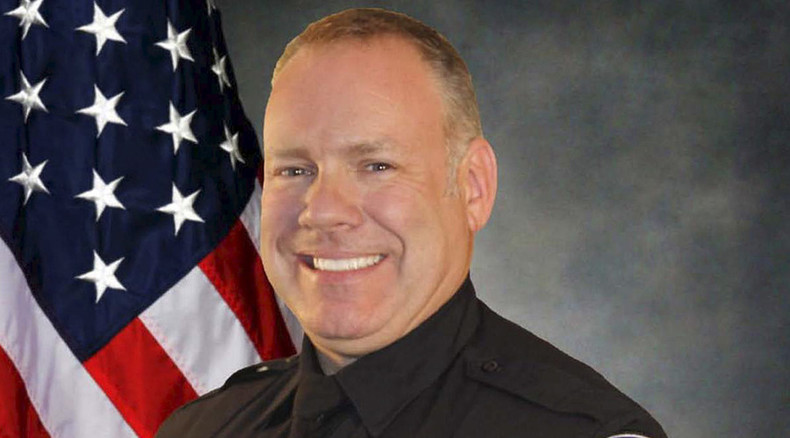 The officer who killed unarmed black teenager Christian Taylor has been fired by the police department in Arlington, Texas. Officer Brad Miller was dismissed for showing "poor judgment" in responding to a burglary call last Friday that led to Taylor's death.
At a press conference Tuesday evening, Police Chief Will Johnson said that Miller, 49, was fired following an administrative investigation into the shooting. The criminal investigation is still ongoing, and its results will be presented to the district attorney and a grand jury to decide whether an indictment would be in order, Johnson said.
"I have serious concerns as to the rationale articulated for the use of deadly force in this incident," Johnson told reporters, but urged against making judgments from the "privileged position" of hindsight, saying that "the oversimplification of the facts is ill-advised and often causes significant community harm."
The Arlington Police is "in dialogue" with the FBI and sharing information about the investigation, the police chief said. If the FBI concludes the facts justify a civil rights case, they will get involved at that point.
Taylor, 19, was a football player at Angelo State University. Security cameras at the Classic Buick GMC dealership in Arlington recorded him breaking into the business shortly after 1 a.m. on August 7.
According to Chief Johnson, six police officers in five patrol cars responded to the burglary report, surrounding the building. Another officer, who remains unidentified, spotted Taylor inside the building and confronted him through a glass wall. Taylor refused the officer's order to get down on the ground.
"Mr. Taylor held up a set of car keys and told the officer that he was going to steal a car," Johnson said.
Miller, who had only been with the department since September 2014, was accompanied by his training officer, Corporal Dale Wiggins. They were tasked with blocking the entrance to the building, so other officers could move in and subdue Taylor.
When Miller found the glass door that Taylor had smashed to get inside, he entered the building, and pursued Taylor when he tried to escape. Another officer testified that Taylor, cornered by Miller, tried to smash through a glass wall with his body. Then he turned around and began to "rapidly approach the officer while cursing," Johnson said.
By that point Wiggins had caught up with Miller, and pulled out his Taser. Wiggins said he "heard a pop" and believed that Miller had fired his own stun-gun at Taylor. As Taylor continued to advance on the officers, Wiggins Tased him, and Miller shot him again.
There is no video of the shooting itself, though security camera footage from the dealership shows Taylor walking around and damaging some vehicles, AP reported.
"It is clear from the facts obtained that Mr. Taylor was non-compliant with police demands," Johnson said. However, "there was no physical contact between Mr. Taylor and the officers."
Johnson said that he found the results of the administrative review "troubling." By abandoning his task of establishing a perimeter and entering the building alone, Miller put himself and other officers "at undue risk," Johnson said. He also described Miller's pursuit of Taylor as "questionable decision-making," given that all six officers were told that the suspect had a "bulge in his pocket." The bulge was later identified as a wallet and a cellphone.
Taylor's death occurred a day before the anniversary of the Ferguson, Missouri police shooting of black teenager Michael Brown on August 9, 2014, which prompted a nationwide protest movement and increased scrutiny into police shooting of suspects in general and African-Americans in particular.
You can share this story on social media: