Visiting Cameroon fans have shared their experiences in Sochi supporting their team at the FIFA 2017 Confederations Cup.
Fans flooded the southern Russian city of Sochi to cheer on the Cameroonian team taking on Germany in their last match of the tournament, having previously played in St. Petersburg and Moscow.
Fans shared their thoughts on one of the tournament's four host cities and its "sociable" atmosphere.
"Sochi is like Cameroon, it's like our (own) country. Because there is so much sun. People are sociable," a fan in a plastic hat decorated in Cameroonian colors said.
"You don't feel like you are out of your country. You feel like you are home," he added.
Some of the fans who had been to Sochi before mentioned the city's development in recent years.
"Sochi is very nice. I was here some years ago, before the Olympic Games, it wasn't so nice. I came here now, I can't believe my eyes. This is so nice."
Guests have also promised to bring more of their friends next year if their team qualifies for the FIFA World Cup in Russia next year.
"I talk to other (Cameroonians), to come here. I think next year Russia will be full of Cameroonians," said an accredited journalist from Cameroon.
Another journalist, Nigerian Lolade Adewuyi, who is a 2017 Master of Sport Administration (MSA) at the Russian International Olympic University in Sochi, also spoke about the atmosphere at the tournament.
Adewuyi came to prominence after he criticized a Confederations Cup carnival in Sochi, at which Cameroon was presented by a group of people with 'blackface' masks and bananas.
Following a wave of racism accusations, Sochi Mayor Aleksandr Pakhomov invited Adewuyi for a discussion on the incident.
"If somebody among the 3,000 participants of the carnival was let down by the taste, it really is regrettable," said Pakhomov at the time.
Read more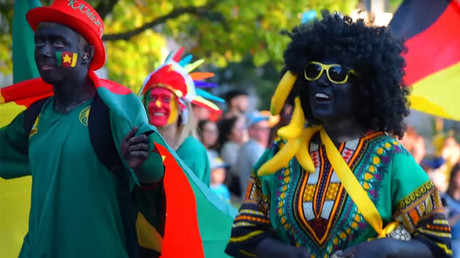 According to Pakhomov, the organizers in Sochi were unaware that bananas are used with racial connotations.
"For us it's just a favorite exotic fruit. On the contrary, we wanted to show our friendliness to all people in our multinational city on the eve of the Confederations Cup," he added.
Following the meeting, the Sochi mayor gave Adewuyi a free ticket to the Cameroon game so he could experience the atmosphere of the tournament.
"I have not experienced any discrimination here, and have not heard (about) any discrimination, I have not seen any," Adewuyi said after his visit to Sochi's Fisht Stadium, TASS reported.
"I'm happy that it's been free of discrimination and there is nothing in the news about it."
He has also mentioned the positive development in battling racial discrimination at matches, referring to previous incidents that have occurred in the Russian Football Premier League (RPL).
"There have been incidents in the league where African players and Brazilian players have faced discrimination against them, such as bananas being thrown from stands and monkey noises," Adewuyi explained.
"This tournament has been devoid of that and I think it's because the government has tried its best to keep out pockets of fans who are aggressive and nationalistic," he concluded.