'Blackface' at Sochi Confed Cup football carnival 'bitter misunderstanding,' not racism – mayor
Published time: 31 May, 2017 17:56
Edited time: 31 May, 2017 20:27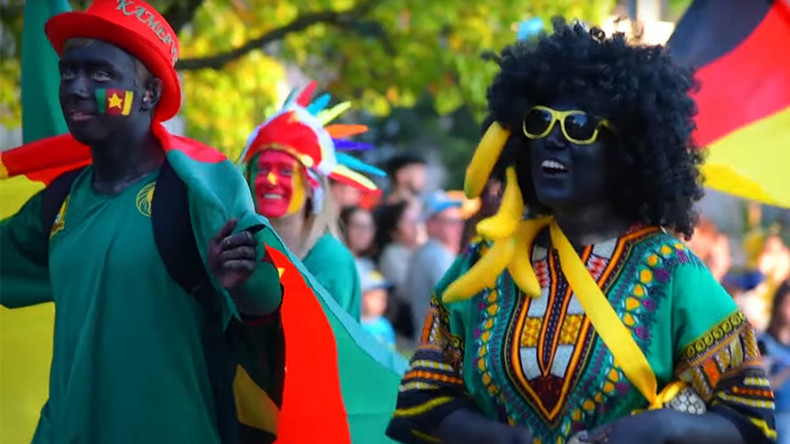 Participants of last week's FIFA Confederations Cup carnival in Sochi did not intend to offend anybody by showing up with 'blackface' and bananas, mayor Aleksandr Pakhomov said, following a wave of racism accusations in the Western media.
A picture posted on Twitter by Nigerian student Lolade Adewuyi, who studies journalism at the Russian International Olympic University, featured people with their faces covered in black paint and carrying bananas during the May 27 carnival.
They walked through streets of Sochi to represent the African nation of Cameroon, whose football team is among the competitors of the FIFA Confederation Cups to be hosted by Russia in just over a fortnight's time.
Black face & bananas - this is how Cameroon was presented at the Sochi carnival on Saturday ahead of Fifa Confederations Cup Russia in June. pic.twitter.com/aB7dRes0gZ

— Lolade Adewuyi (@Jololade) 30 мая 2017 г.
"Black face & bananas - this is how Cameroon was presented at the Sochi carnival on Saturday ahead of Fifa Confederations Cup Russia in June," Adewuyi tweeted.
The post was picked up by the Guardian and other Western media outlets, which accused the organizers of the carnival of being racist and once again floated what they called Russia's "track record" of racism at football stadiums.
"Sochi residents are always known for their hospitality and tolerance," Pakhomov told the Nigerian student during a meeting on Wednesday, RIA Novosti reported.
"If somebody among the 3,000 participants of the carnival was let down by the sense of proportion and taste, it really is regrettable," he added.
According to the mayor, the organizers in Sochi were unaware that bananas are used in racist discourse.
"For us it's just a favorite exotic fruit. On the contrary, we wanted to show our friendliness to all people in our multinational city on the eve of the Confederations Cup," he said.
The negative comments, which came after the carnival, were the result of "a bitter misunderstanding," Pakhomov said.
Adewuyi put the displays at the Sochi march down to the lack of knowledge on discrimination issues among the city's population.
The Nigerian student urged the authorities to launch an education campaign on the issue ahead of the Confederations Cup, as Cameroon plays one of its group matches in the Black Sea resort city.
"They (Sochi people) don't understand that it's an issue to have blackface and then have bananas along with it, you know? They don't see it," he said in an earlier comment to AP.
READ MORE: 100,000 'FAN ID' passports issued for Confederations Cup
At the end of the meeting, Pakhomov presented Adewuyi with a ticket for the Confederations Cup semifinal which will take place at Sochi's Fisht stadium on June 29.
Football's world governing body FIFA has criticized the organizers of the carnival, saying that "the displays... are inappropriate" and that "blackening of faces is considered discriminatory and will not be tolerated inside the stadiums."
Aleksey Smertin, 2018 FIFA World Cup ambassador and former Russian national team captain, told RT that "Russia adheres to the principle of zero tolerance to any form of discrimination."
He acknowledged that manifestations of racism occur in Russia "occasionally," but stressed that they represent the stance of "individual people, not the whole society."
"Such manifestations happen in every country and out task is to minimize them. There's a small number of people who do such things, including unintentionally, as it happened in Sochi," he said.
Russian fans are eagerly anticipating the upcoming Confederations Cup, Smertin said, adding, "We'll be happy to see absolutely everyone, from any continent, and show them our kindness and warmth."



The FIFA Confederations Cup, scheduled to take place from June 17 to July 2 in Moscow, St. Petersburg, Kazan and Sochi, is seen as a precursor to the 2018 World Cup, which will also be held in Russia.
READ MORE: FIFA Confederations Cup not just World Cup rehearsal - football greats Desailly, Kewell to RT
The tournament will feature the champions of FIFA's six continental confederations: Portugal, Chile, Mexico, Cameroon, Australia, New Zealand, as well as current World Cup champions Germany, and host nation Russia.